Cadaveric Crematorium «One Of Them» (2012)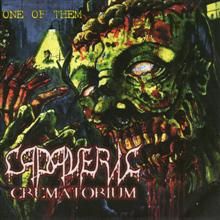 Autore:
carnival creation

»
Recensione Pubblicata il:
--
Visualizzazioni:
2349
Band:
Cadaveric Crematorium





Titolo:
One Of Them
Nazione:
Italia
Formazione:
DR. :: Vocals
Willi :: Guitars
Necrom :: Bass
Gerro :: Drums
Genere:
Durata:
43' 17"
Formato:
CD
Data di Uscita:
2012
Etichetta:
Distribuzione:
---
Agenzia di Promozione:
---
Recensione
Finalmente ecco tornati i bresciani Cadaveric Crematorium. L'attesa, dopo l'enorme successo di "Grindpeace" (2008), è stata lunga ma premiata con un'ultima fatica d'eccezione! Questo "One Of Them" è interessante per più motivi: innanzitutto rappresenta la prima pubblicazione dei nostri sotto forma di quartetto (dopo lo split col chitarrista PR Jad) e soprattutto con un nuovo batterista, Gerro, musicista eccezionale che dietro le pelli non ci fa mancare davvero nulla e non dimostra di essere secondo a nessuno quanto a tecnica.
Squadra rinnovata e aggiornata quindi.
Ciò che capiamo prima di ogni altra cosa su "One Of Them" è che, nonostante i cambiamenti che hanno creato questo "upgrade" di formazione, l'ironia e la purezza di uno humour dissacrante non ha abbandonato le composizioni dei CC, tutt'altro!
Il concept che si cela dietro a quest'ultimo studio-album è talmente assurdo, triviale e malato che fa morire dalle risate! L'intero nostro pianeta si trova ad affrontare una curiosa situazione: tutti e 7 miliardi di esseri umani fanno all'unisono un peto gigantesco senza alcun motivo e la terra finisce per spostarsi di asse vicino alla nostra stella che inizia ad effettuare dei cambiamenti nel DNA generando zombie assassini ed altri mostri e relegando i superstiti umani in una condizione non proprio comoda quanto a sopravvivenza nel sottosuolo non contaminato.
Una storia degna del miglior Douglas Adams tuttavia in salsa Brutal Death Metal/GoreGrind quindi aspettatevi una massa di trituramenti vari, riff taglienti, soluzioni armoniche che si lasciano ascoltare con piacere e tanta, tanta fantasia come da anni la band ci ha abituato viziandoci.
Potremmo addirittura dire che "One Of Them" rappresenta il lavoro più "assennato" che i nostri possano mai aver composto. I brani di per sé non sono moltissimi ma il disco stacca continuamente alternando degli interludi particolari di atmosfere tra le più disparate mentre sulle composizioni vale spendere una parola in più: la tecnica è quella che già conosciamo ma il Gerro si è inserito al meglio e, nonostante la mancanza di un chitarrista, il tutto si esprime nel migliore dei modi, anche grazie ad una produzione ottima.
Qualche brano è prevedibile nel senso che ci saremmo aspettati anche qualcosa di "Cadaveric Crematorium style" veloce, devastante, distruttiva e ricca di guttural ma compaiono anche dei pezzi più ragionati e completi, indice che i nostri si trovano in continua evoluzione (ad esempio "The Protected") ma gli esempi non sarebbero pochi e non voglio rovinarvi la sorpresa.
Ci sono moltissimi punti degni di nota in "One Of Them".
Ancora una volta i nostri amici hanno fatto centro. C'era da aspettarselo!
Track by Track
Alfa

65

Smiling And Farting

90

Beta

90

Supercharged Sun

90

Gamma

70

The Protected

75

Delta

70

WWIII

80

The Mutants

80

Genetic Corruption

85

Theta

70

They're Back

80

Lambda

60

It's Enough

75

Omicron

60

Infected Scientist

75

Sigma

75

Zombies Will Dominate

70

Omega

70
Giudizio Confezione
Qualità Audio:

90

Qualità Artwork:

70

Originalità:

80

Tecnica:

85
Recensione di
carnival creation

»
pubblicata il --. Articolo letto
2349
volte.
Articoli Correlati