Max Navarro «Hard Times» (2012)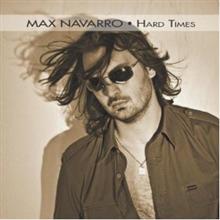 Autore:
carnival creation

»
Recensione Pubblicata il:
--
Visualizzazioni:
2040
Band:
Max Navarro



Titolo:
Hard Times
Nazione:
Italia
Formazione:
Max Navarro :: Vocals
John Paul Bellucci :: Guitars
Nick Mayer :: Guitars
Jack Novell :: Bass
Simone Morettin :: Drums
Genere:
Durata:
32' 33"
Formato:
Promo CD
Data di Uscita:
2012
Etichetta:
Distribuzione:
---
Agenzia di Promozione:
---
Recensione
La partita è vinta da Max Navarro con il tris d'assi! Ci ha fatto attendere tre anni, il rocker originario di Vancouver, ma ne è valsa la pena! Terzo studio-album per qualcosa che possiede molto valore; non aggiunge e non toglie assolutamente nulla né al precedente ottimo disco "No Belonging After Dark" (2009) né all'entusiasmante debut "Branded On My Skin" (2008) ma che invece fortifica, rende inflessibile e inossidabile una realtà puramente Rock con la R maiuscola senza troppo darsi a inutili orpelli che potrebbero contornare i brani. No no, al singer e ai quattro bravi musicisti al suo seguito piace fare le cose per bene e anche stavolta hanno sfornato un disco degno della considerazione di tutti gli appassionati e non solo.
Nulla di nuovo dal fronte quindi ma invece una più chiara e consolante consapevolezza di avere nelle orecchie della musica semplice ma d'impatto, mai banale e sempre emozionante che ci riempie il cuore con le melodie catchy che il singer fa apparire come per magia lasciandosi anche influenzare dalla storicità del Rock.
"The Wrong Side" è una stupenda ballad che sembra essere uscita direttamente dagli anni 80 non si sa come e il brano di punta, "Nothin' Guaranteed" è effettivamente la perla del disco, melodico, acchiappone e costruito su solide basi senza tralasciare un po' di fruibilità commerciale, che male non fa.
Ma il Navarro ormai odia passare inosservato e prosegue il disco con altrettanti brani di ottima fattura, registrati e mixati come vuole il dio del Rock melodico che non disdegna un po' di fuoco nei riff e ammette aperture melodiche da brivido.
Disco veramente stupefacente!
Non c'era due senza tre…e il quattro vien da sé!
Track by Track
You Can Rely On

80

Out Of Bounds

75

The Wring Side

85

Nothin' Guaranteed

90

Cryin'

70

Winter II Chicago

65

Beyond The Silence

75

Poison Girl

75

End Of The Universe

80
Giudizio Confezione
Qualità Audio:

80

Qualità Artwork:

65

Originalità:

70

Tecnica:

80
Recensione di
carnival creation

»
pubblicata il --. Articolo letto
2040
volte.
Articoli Correlati