Spidkilz «The Ultra Demo» (2011)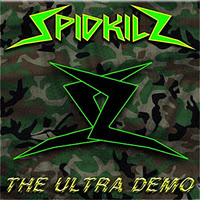 Autore:
Zoro

»
Recensione Pubblicata il:
--
Visualizzazioni:
1530
Band:
Spidkilz




Titolo:
The Ultra Demo
Nazione:
Italia
Formazione:
Elisa "over" De Palma : Vocals
Francesco "franz" Musumeci : Guitar
Pietro "pacio" Baggi : Guitar
Mattia Rubino : Drums
Roccia "the Rocks" Giordani : Bass
Genere:
Durata:
23' 0"
Formato:
Demo MC
Data di Uscita:
2011
Etichetta:
Distribuzione:
---
Agenzia di Promozione:
---
Recensione
Gli italiani Spidkilz ci provano con un'Ultra Demo (ripubblicata in un edizione limitata in cassetta per veri archeologi dell'età del metallo), a ricordare al mondo che il Thrash non è morto, forte di un sound che si poggia sulle spalle dei giganti della bay area e, nelle volontà della band, forte, catchy e melodico. Suo portavoce è la frontwoman e fondatrice Elisa "Over" De Palma, pronta a deliziarci con la sua ugola abrasiva. In realtà il dischetto parte piuttosto in sordina, con un paio di pezzi abbastanza canonici ma privi di nerbo (il ritornello "Fuck You" ricorrente nella seconda traccia non funziona proprio). Dopo di loro segue una power ballad che non ci dispiace, un altro pezzo più thrasheggiante che pur non facendo gridare al miracolo ci fa fare abbastanza headbanging. Segue un'altra power ballad efficace, che pure non è male, epico e ben costruito. Insomma, un demo che lascia perplessi, forse il gruppo dovrebbe riflettere più sulla direzione da intraprendere, perché da quello che ho sentito naviga meglio su lidi classici e melodici che su quelli della violenza sonora Thrash. Un demo dovrebbe dare l'idea della proposta di un gruppo, ma io ho proprio bisogno di un'altra uscita prima di poter dare un giudizio definitivo sugli Spidkilz.
Track by Track
Fear of Death

50

I Will Crush You

55

In Tears

65

Fashion

65

The Distance

65
Giudizio Confezione
Qualità Audio:

65

Qualità Artwork:

50

Originalità:

55

Tecnica:

65
Recensione di
Zoro

»
pubblicata il --. Articolo letto
1530
volte.
Articoli Correlati