4th Dimension «The White Path To Rebirth» (2011)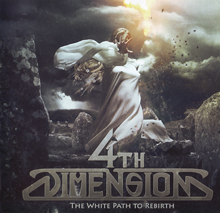 Autore:
carnival creation

»
Recensione Pubblicata il:
--
Visualizzazioni:
1563
Band:
4th Dimension




Titolo:
The White Path To Rebirth
Nazione:
Italia
Formazione:
Andrea Bicego - vocals, classical guitars
Michele Segafredo - guitars
Talete Fusaro - keys, piano
Stefano Pinaroli - bass
Massimiliano Forte - drums
Guests:
Fabio Lione - vocals (track 6)
Melody Castellari - vocals /track 5)
Alessio Lucatti - keyboard solo (track 3)
Genere:
Durata:
53' 11"
Formato:
CD
Data di Uscita:
2011
Etichetta:
Distribuzione:
---
Agenzia di Promozione:
---
Recensione
I veneti 4th Dimension giungono con un debutto che potrebbe davvero fare la felicità degli amanti del power metal sinfonico. Nonostante avessi voluto sbattere la testa sulla scrivania appena avevo letto il genere proposto e il mio tuonante "ma non se ne può più! Cambiate genere!", ho mutato subito parere e il mio voler mettere le mani avanti è stato tolto definitivamente di mezzo dopo pochi minuti di play.
Certo è da dire che al giorno d'oggi, se sei una band già nota nel power (e non da pochi anni), hai sicuramente qualche chance si cavartela. Ma se pretendi di debuttare con un genere così abusato e stereotipato, si apre un bivio logico: ti ritrovi in un gruppo di ragazzini inesperti, con tanto entusiasmo, ma con le idee sbagliate e con un'ignoranza di fondo per cui non andrai a suonare da nessuna parte, tranne nel pub vicino casa dove ti esibirai di fronte a dieci persone compresa la nonna e gli zii, sfoggiando i tuoi Iron Maiden semplificati; oppure fai parte di una band che sa cosa significa suonare, comporre, ideare, provare ad essere originali e tentare il tutto per tutto. Quest'ultimo sottogruppo riguarda in toto i 4th Dimension, i quali hanno rilasciato un album tutto sommato gradevole, in cui non è proprio l'originalità a determinare la sua riuscita, ma piuttosto un enorme e considerevole lavoro di sottofondo tra precisione, doti canore di un Andrea Bicego alla massima forma e tanto, ma tanto talento nelle tastiere, perla di tutto il disco.
Molto probabilmente se le tastiere non fossero state contemplate, "The White Path To Rebirth" sarebbe risultato un mediocre album cantato benissimo, ma per il 70% vuoto. Di fatti, tra assoli di synth, passaggi di archi, pianoforte, organo, effettistica varia e buoni spunti il livello qualitativo del disco sale considerevolmente, lasciando tuttavia delle chitarre un po' vuote in sottofondo, violenti quanto basta, ma chiaramente in disparte e che svolgono una funzione più marginale rispetto alla mole di note che le tastiere presentano in ogni minuto di ogni brano. Buone "Consigned To The Wind" e "Goldeneyes" (che vanta le corde vocali di Lione al suo interno tra l'altro) e "Everlasting", tripletta del disco che brilla maggiormente rispetto alle altre; un vero peccato la chiusura mediocre dei disco con una piatta ed insipida "Landscapes (Vestige Of The Earth)" che non convince a pieno. Ripeto, l'originalità di tutto ciò è sufficiente, ma non è così vivace soprattutto per i troppi e frequenti richiami a Rhapsody Of Fire, Sonata Arctica, Stratovarius e via discorrendo, ma mi rendo conto che scrollarsi di dosso questa mole di responsabilità non è cosa facile. Tuttavia apprezzo l'onestà e la produzione molto buona. Come debutto si può considerare riuscito.
Track by Track
The Sun In My Life

70

Consigned To The Wind

80

Goldeneyes

80

Sworn To The Flame

60

Everlasting

70

A New Dimension

65

Winter's Gone

65

Labyrinth Of Glass

65

Angel's Call

60

Landscapes (Vestige Of The Earth)

50
Giudizio Confezione
Qualità Audio:

75

Qualità Artwork:

60

Originalità:

60

Tecnica:

70
Recensione di
carnival creation

»
pubblicata il --. Articolo letto
1563
volte.
Articoli Correlati