Whiskey Ritual «In Goat We Trust» (2011)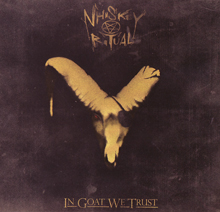 Autore:
carnival creation

»
Recensione Pubblicata il:
--
Visualizzazioni:
1867
Band:
Whiskey Ritual



Titolo:
In Goat We Trust
Nazione:
Italia
Formazione:
Dorian Bones - vocals
A. - guitar
Plague - bass
Asher - drums
Session Members:
Lady De Murderdog - rhythm guitars
Azog - rhythm guitars
Genere:
Durata:
42' 51"
Formato:
CD
Data di Uscita:
2011
Etichetta:
Distribuzione:
---
Agenzia di Promozione:
---
Recensione
Tra le band neonate che ho avuto il piacere di ascoltare in quest'ultimo periodo non posso proprio non menzionare i giovani Whiskey Ritual, band nata nel vicino 2008 e con all'attivo l'Ep denominato come il genere che propongono: "Black 'n' Roll" (presentato sotto la Forces Of Satan, etichetta di Infernus dei Gorgoroth). Oggi i nostri si propongono con un bell'album ricco di sorprese per un orecchio non troppo abituato (o meglio "non più abituato") all'ascolto di un black metal primordiale, ancestrale per così dire.
"Old-School" non renderebbe al meglio l'idea di ciò che vi aspetta se vi procuraste "In Goat We Trust" (titolo che è tutto un programma, tra l'altro!). Per avvicinarvi un po' alla filosofia musicale della band dovreste innanzitutto andarvi a "ripassare" un vecchio e importantissimo masterpiece chiamato semplicemente "Black Metal" dei Venom ma anche altrettanti bei dischi degli HellHammer.
Insomma il punto di partenza è questo, con basi chiaramente thrash ed heavy poste come colonne portanti per questo black 'n' roll, genere sporco, becero, marcio. Personalmente accostabile all'immagine di un ubriaco in un locale malfamato, simile all'atmosfera che può potenzialmente creare una suburra corrotta e putrida.
C'è spazio addirittura per l'epico nelle liriche dei WR, ascoltate il particolare brano "Legione D'Assenzio", l'unico in lingua italiana per rendervene conto ma coesistono anche atmosfere tipicamente festaiole (in locali malfamati, chiaramente) come da migliore scuola rock 'n' roll ottantiana. Insomma, il tutto è mescolato in modo tale da risultare un lavoro originale ma allo stesso tempo costruito con classe, in più il disco gode di una produzione niente male.
Ottimo con qualche superalcolico e rigorosamente accompagnato con un pacchetto di sigarette.
Track by Track
Black 'n' Roll

65

In Goat We Trust

70

One Million (feat. Apollyon)

75

Drunken Night

75

My Wind

70

Maryann

70

Devil's Street

70

Legione D'Assenzio

70

The Humans' King

75

Whiskey Ritual

70
Giudizio Confezione
Qualità Audio:

75

Qualità Artwork:

60

Originalità:

70

Tecnica:

75
Recensione di
carnival creation

»
pubblicata il --. Articolo letto
1867
volte.
Articoli Correlati