Suffer In Silence «Brutal Realities» (2010)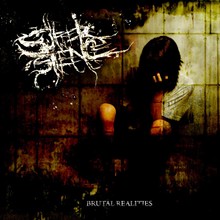 Autore:
fabio HC

»
Recensione Pubblicata il:
--
Visualizzazioni:
1667
Band:
Suffer In Silence




Titolo:
Brutal Realities
Nazione:
Italia
Formazione:
Patrick:: Voce, Chitarra
Ivan:: Chitarra
Alek:: Basso
Ciko:: Batteria
Genere:
Durata:
32' 32"
Formato:
CD
Data di Uscita:
2010
Etichetta:
Distribuzione:
---
Agenzia di Promozione:
---
Recensione
E' un vero piacere a volte recensire un gruppo di questa portata.
I Suffer In Silence infatti hanno colpito fortemente il mio animo metal, oltre naturalmente alle orecchie; questi quattro death metallers di Rimini esordiscono, anche su queste pagine, con il loro primo album full length, a distanza di cinque anni dalla loro rinascita.
Il suono inciso su questo disco è un inequivocabile death metal di stampo svedese, ma detto questo non intendo dire certamente che i S.I.S "copino" selvaggiamente il metal nordico. Nelle nove tracce dell'album (dieci contando l'intro), il tocco personale del gruppo italico si fa sentire indubbiamente; ne sono esempio canzoni come "Without Gods" e "Killer Thoughts".
Il brano più classico, ma molto cattivo e sicuramente ben fatto, è "Lament": partenza semi-tranquilla con il suo potente e sonoro basso intorno ai 42 secondi, poi devasto totale oltrepassato il minuto. Senza però mai perdere quel po' di "melodicità" propria degli Entombed. Per non parlare del solo presente in questa traccia.
La registrazione nel complesso è ben fatta, tutti i musicisti trovano infatti spazio nei canali del mixer, e il basso misto sezione ritmica crea quelle cattive sonorità proprie del genere death.
Particolare la penultima traccia "Delete", caratterizzata da un inizio molto black in sede chitarristica, ma che poi torna a pompare con la solita distorsione abrasiva come nel resto del lavoro.
Bisogna certamente dire che certe volte saltano fuori gruppi underground veramente interessanti, come questi emiliani, i quali sanno come tirare fuori con un po' di melodia tenebrosa e nostrana il meglio dell'animo metal estremo. Un ringraziamento spetta anche all' SG Records, la quale scopre quasi sempre gruppi eccezionali.
Provare per credere!
Track by Track
Perceptions

70

Absurd Humanity

80

The Brutal Realities (of Life)

75

All the Evil of the World

80

Killer Thoughts

75

Lament

85

Without Gods

80

Eatshit!

75

Delete

80

Suffering In Silence

75
Giudizio Confezione
Qualità Audio:

80

Qualità Artwork:

75

Originalità:

75

Tecnica:

80
Recensione di
fabio HC

»
pubblicata il --. Articolo letto
1667
volte.
Articoli Correlati