Any Face «The Cult Of Sickness» (2010)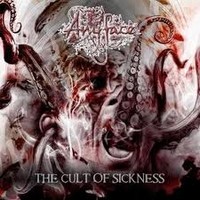 Autore:
Baldios

»
Recensione Pubblicata il:
--
Visualizzazioni:
1631
Band:
Any Face




Titolo:
The Cult Of Sickness
Nazione:
Italia
Formazione:
Yuri Bianchi - vocals
Antonio Pollizzi - guitars
Szymon Sollami Delekta - guitars
Davide Stura - bass
Omar Cappetti - drums
Genere:
Durata:
38' 0"
Formato:
CD
Data di Uscita:
2010
Etichetta:
Distribuzione:
---
Agenzia di Promozione:
---
Recensione
Ed ecco signore e signori quello che si intende suonare death metal e al tempo stesso essere tecnici ed espressivi! Il concentrato del nuovo cd degli AnyFace dal titolo "The Cult Of Sickness" potrebbe essere la frase sopra citata.
Davvero son rimasto contento di ascoltare un cd suonato bene, idee bellissime, cantato violento, senza mai essere noioso, con episodi musicali e vocali davvero superiori alla media. E la nostra discesa agli inferi si apre con "Suicide Urge", possente e creativa, con degli stacchi quasi Atheist style per tornare al death tradizionale, con delle linee vocali soddisfacenti e musicalmente di alta qualità. Ed è così che si delinea il resto del cd , pochissimi i momenti "bui" , forse rari, per chi vuol andare a cercare il pelo nell'uovo senza mai trovarlo. In assoluto trovo "Unspoken Son" il pezzo più bello del cd, come forse tante band d'oltreoceano fanno e i nostri ragazzi di Varese non solo dimostrano di non essere da meno, anzi. Con il suono davvero che calza a pennello della bella produzione di cui si sono avvalsi nelle loro composizioni, gli AnyFace possono competere con tutto e tutti, magari supporteranno sicuramente band death di alto calibro o almeno il mio augurio è questo, sono a livello quanto meno europeo soprattutto per il livello compositivo. Ed i Fear Studios hanno fatto un ottimo lavoro, senza far perdere mai di tensione i brani, con un carroarmato che sta per schiacciarvi, una furia immane, ma non casuale.
Un martello la title track, davvero bella la cover di "Happy Tantrum" degli OLD , cosa altro dire se non augurare il meglio ad una band così? Consigliatissimo a chi ama il death metal!
Track by Track
Suicide Urge

80

Stabbing The Core

75

The Cult Of Sickness

80

Infecting Human Ground

75

Happy Tantrum

80

Dead Corpse Walking

70

The Unspoken Son

90

Portrait Of A Nihilist

85
Giudizio Confezione
Qualità Audio:

80

Qualità Artwork:

80

Originalità:

75

Tecnica:

85
Recensione di
Baldios

»
pubblicata il --. Articolo letto
1631
volte.
Articoli Correlati