Max Navarro «No Belonging After Dark» (2009)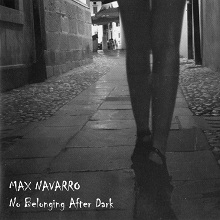 Autore:
carnival creation

»
Recensione Pubblicata il:
--
Visualizzazioni:
1959
Band:
Max Navarro



Titolo:
No Belonging After Dark
Nazione:
Italia
Formazione:
Max Navarro :: Lead & Backing Vocals + Guitars
John Paul Bellucci :: Lead Guitars
Nick Mayer :: Guitars
Jack Novell :: Bass
Simon Moore :: Drums
Genere:
Durata:
24' 41"
Formato:
EP
Data di Uscita:
2009
Etichetta:
Distribuzione:
---
Agenzia di Promozione:
---
Recensione
Ormai posso dirlo: quando si parla di Max Navarro possiamo andare sul sicuro. Ci propone sempre dell'ottimo Rock, ma di quello vero, senza fronzoli, senza manipolazioni dovute all'elettronica, quel rock meraviglioso proprio ormai dei tempi andati (in parte) che tante emozioni ci ha donato e tante ce ne dona attualmente quando e se abbiamo voglia di rimetterlo nel nostro stereo.
Cosa penso di "No Belonging After Dark" ? Che l'unica pecca è quella di essere troppo corto per quanto sia bello, costruito nel migliore dei modi e si lascia ascoltare in modo dolcissimo e senza pause.

E' senz'altro uno di quei dischi da mettere senza indugio nel lettore cd della propria auto mentre si sta viaggiando per qualche posto interessante, così da rendere ancora più interessante e vissuto il tragitto mentre, persi nelle splendide e melodiche note di quel rock da capogiro, i nostri occhi vagano tra ciò che appare al di là della carreggiata dell'autostrada in cui stiamo andando senza fretta al posto desiderato.

E' bello sì, talmente bello che alla fine di queste righe il sottoscritto si prenderà mezz'ora (come guardacaso dura il disco più o meno) di pausa dalla realtà e viaggerà da qualche parte, sperduto in quella fantasia che niente e nessuno potrà mai cancellare da me.
Un vero e proprio mezzo per fantasticare quindi; potrei aggiungere che la voce così vissuta, così ricca di emozioni e di blues che traspare da Max sia tra le più incantevoli che io abbia mai sentito in un disco Rock.

Il capolavoro del disco -a mio avviso- è rappresentato senz'altro da Torquemada la quale, lo dico senza paura di esagerare, sarà una delle mie personalissime colonne sonore di questo così strano 2010 e me la ascolterò (naturalmente in macchina mentre guiderò) magari insieme alla mia ragazza, fumando una delle mie Lucky Strike e pensando che in quel momento sono felice e libero.
Sì ragazzi, "No Belonging After Dark" è proprio questo: un disco felice, nel senso che trasmette vibrazioni positive nonostante il tema delle liriche tenda ad un'aspra (e giusta) critica sociale verso questo mondo ormai saturo di tante ingiustizie.
Un disco anche per riflettere quinsi! Eh, caro Max, stavolta hai fatto proprio centro!
Track by Track
The Wakeland In The Dark

75

Get Away

75

Wish

75

Torquemada

95

Stardust

70

Turn Back Time

75

Out In The Midnight (Live Unplugged)

75
Giudizio Confezione
Qualità Audio:

80

Qualità Artwork:

75

Originalità:

90

Tecnica:

90
Recensione di
carnival creation

»
pubblicata il --. Articolo letto
1959
volte.
Articoli Correlati