Aeternal Seprium «The Divine Breath Of Our Land» (2010)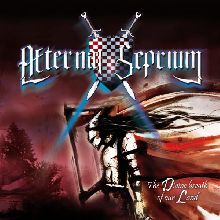 Autore:
Dust

»
Recensione Pubblicata il:
--
Visualizzazioni:
1962
Band:
Aeternal Seprium





Titolo:
The Divine Breath Of Our Land
Nazione:
Italia
Formazione:
Stefano Silvestrini: Voce
Unto: Chitarra Lead
Santino Talarico: Basso
Matteo Tommasini: Batteria
Adriano Colombo: Chitarra
Genere:
Durata:
21' 31"
Formato:
CD
Data di Uscita:
2010
Etichetta:
Distribuzione:
---
Agenzia di Promozione:
---
Recensione
Gli Aeternal Seprium sono una band di Varese formata nel 1999, dopo numerosi cambi di formazione e di conseguenza background musicali, il gruppo trova un suo equilibrio e produce il loro secondo demo ufficiale "The divine breath of our Land", un buon mix di heavy metal abbastanza classico con forti riferimenti al progressive-power contaminato da sonorità epiche un po' alla Vision Divine, stile che ha avuto negli ultimi anni un notevole successo in Italia.

La peculiarità di questa band, stà nel contenuto dei loro testi, ovvero storie e leggende della propria terra, l'Italia; perciò nulla a che vedere con le tipiche tradizioni celtiche di cui ne è stato fatto un vero e proprio abuso nel genere.

Questo demo di quattro pezzi, presenta notevoli spunti interessanti, anche se purtroppo non mancano elementi su cui potevano essere spesi più tempo e energie: in primo luogo, l'intero ascolto risulta abbastanza piatto ripetitivo; a mio avviso la presenza di linee di tastiera di riempimento e di arrangiamento risulta veramente indispensabile in questo genere visti i continui ed ottimi fraseggi di chitarra che lasciano un po' vuoto il sound (forse anche colpa di un basso che non riesce ad uscire dal mixaggio).

Dopo queste note introduttive sul sound, che riprenderemo in seguito, bisogna dire che i pezzi sono in ogni modo belli e ottimamente suonati, vista l'elevata caratura tecnica di tutti i musicisti: buono l'intro del primo pezzo "Solstice Of Burning Soul", con chitarre pulite molto effettate un po' alla Dream Theater che culminano in riff dalla giusta dose di potenza e melodia. Non tutti i pezzi comunque sono affetti dai problemi sopracitati: "The Oak And The Cross" propone un fraseggio di chitarra accompagnato da un violino molto interessante che spezza molto l'ascolto delle prime songs, arrivando poi ad un bridge bellissimo e melodico. Anche "Under Flag Of Seprium" grazie ad una linea vocale ben strutturata son parti lead e buonissime controvoci risulta meno piatta, anche se ancora qualcosa da perfezionare su questo punto c'è.

Riprendendo quanto detto prima sul sound e sul mixaggio, aspetto che in questo genere non può essere assolutamente tralasciato, francamente non credo questa fase sia stata molto ben curata: le chitarre ritmice sono molto buone, ma perde molto il suono dei fraseggi in posizione semi-lead visto il suono troppo secco e scarno che necessita di almeno un po' di riverbero e presenza mentre il basso si perde molto nell'ascolta e non riesce ad emergere nemmeno drante gli assoli e lascia praticamente la chitarra da sola su tutte le ritmiche.

Questa recensione tuttavia, non vuole assolutamente essere negativa, ma poter fornire spunti di riflessione alla band: i pezzi, come già detto sono molto buoni e con qualche accorgimento stilistico, unito alla indiscutibile bravura dei componenti, sicuramente potranno essere molto valorizzati nei prossimi demo o full length.
Track by Track
Solstice Of Burning Soul

70

In Sign Of Brenno

55

The Oak And The Cross

60

Under Flag Of Seprium

55
Giudizio Confezione
Qualità Audio:

70

Qualità Artwork:

55

Originalità:

65

Tecnica:

80
Recensione di
Dust

»
pubblicata il --. Articolo letto
1962
volte.
Articoli Correlati