Ancient Dome «Human Key» (2009)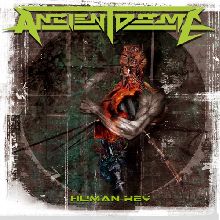 Autore:
Maglor

»
Recensione Pubblicata il:
--
Visualizzazioni:
1983
Band:
Ancient Dome



Titolo:
Human Key
Nazione:
Italia
Formazione:
Paolo Porro: Lead And Rhythm Guitars, Lead Vocals
Alessandro Fontana: Lead And Rhythm Guitars
Matteo Cuzzolin: Bass Guitar, Backing Vocals
Giorgio Alberti: Drums
Genere:
Durata:
43' 49"
Formato:
CD
Data di Uscita:
2009
Etichetta:
Distribuzione:
---
Agenzia di Promozione:
---
Recensione
Avevamo lasciato gli Ancient Dome con un promo di 4 tracce che doveva servire alla band per accaparrarsi un contratto per vedere promosso e distribuito il loro primo full lenght, operazione perfettamente riuscita dato che oramai da qualche mese è possibile reperire nei negozi specializzati, oltre che via web, le 11 tracce che compongo il qui presente "Human Key".
Il disco si avvale di una buona grafica in stile "futuristico" e di un suono potente e grezzo quanto basta, in linea con la proposta dei quattro varesotti che, per chi non lo sapesse, si materializza in un thrash di matrice prettamente americana di quello che si suonava sul finire degli anni Ottanta, quando il genere vedeva in parte smorzata la propria primigenia indole di "corsa al massacro" a favore di strutture più ragionate, intricate e melodiche, il tutto senza naturalmente dimenticarsi di suonare sempre e comunque thrash metal. E neanche gli Ancient Dome se ne sono dimenticati: "Human Key" infatti è composto da pezzi dalle partiture complesse come "State of Regression", "Human Key" e "Architect Of Dreams" ai quali si affiancano altri decisamente più "in your face" come l'opener "Ancient Dome" e la conclusiva "Total Command", reminiscenze del passato prossimo di Paul e soci.
Cavalcando a spron battuto per i poco meno di 45 minuti di durata del CD si trova un po' tutto ciò che ha fatto grande il thrash a cavallo delle due decadi, dalle mazzate ritmiche in pieno stile Exodus di "Ancient Dome", con i suoi cori "botta e risposta" così ficcanti, alle partiture quasi progressive di "Human Key", dove Heathen e Forbidden sono i primi gruppi che saltano alla mente, fino ad arrivare ad inserti acustici, come quelli presenti in "Fall of The Dominion " e "Lost Creature", e addirittura ad una quasi-ballad dal nome "Cold September" dove troviamo in veste di guest vocalist Cesare Zanotti.
La band insomma ci propone un disco vario ed eterogeneo che ci mostra quattro musicisti che, appresi e lasciati alle spalle gli stilemi del bay area sound più classico, sono in netto cammino verso la costruzione di uno stile personale che incorpori maggiori dosi di melodia e tecnica e che in "Human Key" inizia ad emergere.
Le capacità strumentali degli A.D. sono cresciute, così come quelle compositive, che si rivelano migliorate soprattutto nella cura delle strutture e degli arrangiamenti oltre che nella ricerca di soluzioni che non siano mai banali, ed anche il singer Paul si mostra più a suo agio che in passato dietro al microfono.
La qualità dei pezzi è omogenea e si fa segnalare in particolare il mini concept della "Human Key Saga" (tracks 3 to 7) con i suoi cambi di atmosfera e di umore così come costante è lo sforzo di comporre lyrics che abbiano un senso. Queste infatti vanno al di là dei cliché di genere ed abbracciano, oltre a qualche tema classico e tamarro trattato con strafottente ironia come è giusto che sia, anche argomenti più complessi come il rapporto con tecnologia e potere, sulla scia di altre band quali Nevermore e Rage o scrittori come Philip K. Dick.
Al termine della recensione il concetto mi pare chiaro, tutti i thrasher degni di questo nome troveranno qui del buon pane per i propri denti, si tratta pure di una band italiana, che dire di più: support!
Track by Track
Ancient Dome

75

State Of Regression

80

The Defeat

70

Tyrants

85

Human Key

85

Aeons

75

Fall Of The Dominion

80

Cold September

75

Lost Creature

80

Architect Of Dreams

80

Toral Command

80
Giudizio Confezione
Qualità Audio:

75

Qualità Artwork:

80

Originalità:

75

Tecnica:

85
Recensione di
Maglor

»
pubblicata il --. Articolo letto
1983
volte.
Articoli Correlati