Demetrio Scopelliti «V» (2022)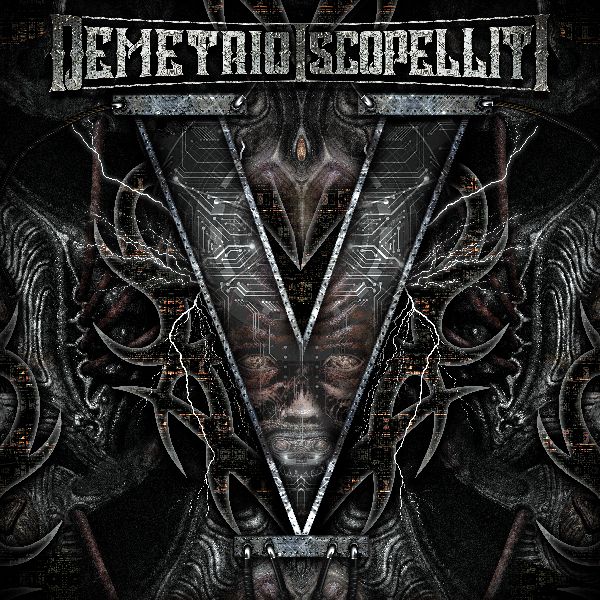 Autore:
Wolverine

»
Recensione Pubblicata il:
24.07.2022
Visualizzazioni:
663
Band:
Demetrio Scopelliti






Titolo:
V
Nazione:
Italia
Formazione:
- Demetrio Scopelliti ::
Guitar Player, Composer, Producer & Multi Instrumentalist;
Genere:
Instrumental Prog Metal
Durata:
44' 18"
Formato:
CD
Recensione
Il titolo nonché quanto stilizzato nell'artcover di questo disco intitolato "V" non a caso indica, secondo la numerazione romana il numero cinque, ovvero il quinto album della carriera del polistrumentista solista Demetri Scopelliti, artista divenuto già noto per le sue precedenti uscite oltre che per il proprio indiscusso estro come artista nell'ambito del metal progressive. In effetti le dieci tracce del disco offrono una carrellata del potenziale dell'autore sia con la chitarra, suo strumento primario ma anche con il synth e il basso, attraverso i quali ingenera scenari musicalmente tecnici e micidiali. Le progressioni offerte sono una vera rivelazione, brano dopo brano sia sotto il profilo strutturale ma anche ritmico; incredibili i lead solo ma anche le ambientazioni del synth. La tecnica senza la minima ombra di dubbio prende sin da subito il sopravvento e non concede spazi o falde; le performance migliori ricadono su "Afertword", brano d'apertura, ma anche "Deva" e "Divergence" forti della indiscussa potenza e velocità esecutiva di cui l'ascoltatore viene reso partecipe; ma ancora "Euphoria", tra i più moderati che non si risparmia anche in momenti più tecnici e la massiccia "Entropy", forte di un riffone di portata micidiale su cui poi l'artista crea al meglio le proprie ispirazioni tra lead e ritmiche. Un disco che ancora una volta conferma la forza e l'incredibile estro di questo artista all Made in Italy.
Track by Track
Afterword

80

Devil You Know

75

Deva

80

Divergence

75

Ghost In The Machine

75

The None

75

Euphoria

80

Inspiria

80

Entrophy

80

Afetrmath

75
Giudizio Confezione
Qualità Audio:

75

Qualità Artwork:

80

Originalità:

75

Tecnica:

80
Recensione di
Wolverine

»
pubblicata il 24.07.2022. Articolo letto
663
volte.
Articoli Correlati