NAVAJO CALLING FESTIVAL: i dettagli del festival organizzato da Moonlight Records e Lo-Fi Creatures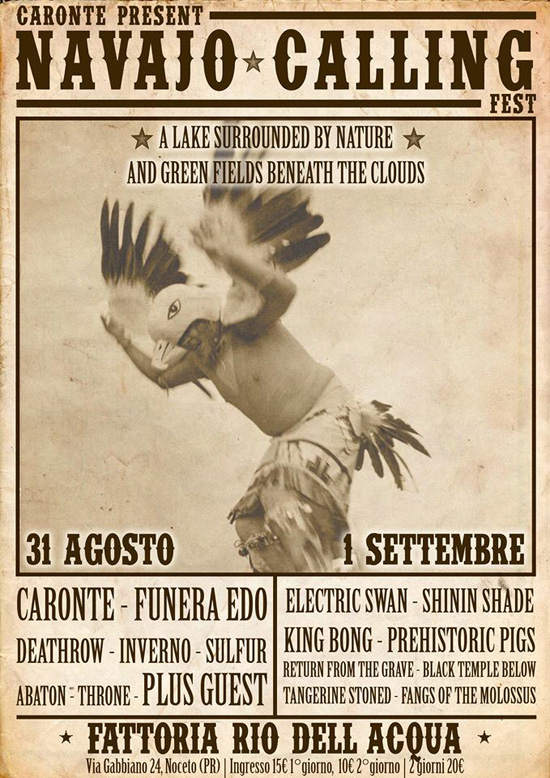 Moonlight Records e Lo-Fi Creatures annunciano il "Navajo Calling Festival" un nuovo appuntamento per gli amanti dello Stoner/Doom/Heavy Psyche.
Il festival si terra' dal 31 Agosto al 1 Settembre a Fattoria Rio Dell'Acqua, Noceto (PR) con una line-up formata soltanto da gruppi Italiani, il palco sara' immerso nella natura con possibilita' di campeggio gratuito. Il costo e' di 15€ per il primo giorno e di 10€ per il secondo, abbonamento per i due giorni 20€ soltanto tramite prevendita.
Si accetta pagamento tramite Paypal e Poste Pay.
La line up del primo giorno:
CARONTE
FUNERA EDO
DEATHROW
INVERNO
SULFUR
ABATON
THRONE
Secondo Giorno:
ELECTRIC SWAN
SHININ SHADE
KING BONG
PREHISTORIC PIGS
RETURN FROM THE GRAVE
BLACK TEMPLE BELOW
TANGERINE STONED
FANGS OF THE MOLOSSUS
Campeggio gratuito a fianco del Lago.
Possibilita' per gli amnti della pesca di pescare gratuitamente (Carpe)
Zona Distro
Ristorante e paninoteca attiva tutto il giorno
Fuoco da campo gia' predisposti
Piscine disponibili.
Evento Facebook:
https://www.facebook.com/events/224443364374672/
METTIAMO ASSIEME LE NOSTRE MENTI E VEDIAMO QUALE VITA POSSIAMO COSTRUIRE PER I NOSTRI FIGLI
Inserita da:
Jerico
il 07.08.2013 - Letture:
1677
Articoli Correlati
Altre News di MetalWave
Notizia Precedente
Notizia Successiva