METAL.IT PARTY: rivelato il bill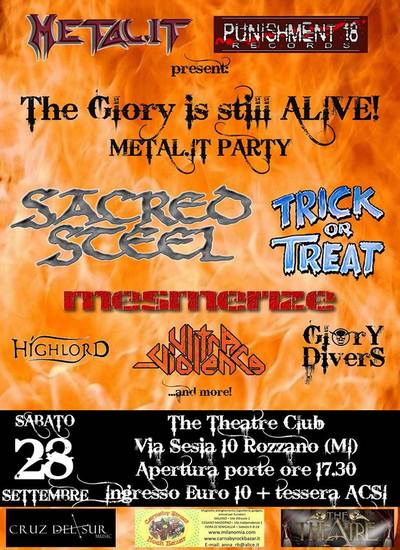 Di seguito le band confermate per il festival organizzato dalla webzine Metal.it, che si terrà il 28 settembre al The Theatre di Rozzano (MI).
SACRED STEEL
Uno dei nomi più amati del true metal, che con il nuovo The Bloodshed Summoning. Insomma, parliamo degli autori di classici come "Reborn in Steel" e "Wargods of Metal", di album feroci come "Slaughter Prophecy" e "Hammer Of Destruction", niente compromessi, solo metallo rovente straight in your face!
TRICK OR TREAT
Una delle band più amate del panorama power metal italiano e non solo, che arriva sul palco del Theatre a presentare l'ultimo disco Rabbits' Hill pt. 1. Uno show attesissimo che regalerà sicuramente tutto il divertimento che i nostri ragazzi sono capaci di trasferire on stage!
MESMERIZE
Storica formazione che con il nuovo Paintropy è tornata alla grandissima sulle scene, dopo un'assenza di otto anni.
HIGHLORD
Altro combo storico del panorama power metal italiano, gli Highlord arriveranno a Milano belli carichi dopo il successo dell'ultima fatica discografica The Warning After.
ULTRA-VIOLENCE
Non poteva mancare un po' di sano thrash metal, con un'altra grande band italiana come gli Ultra-Violence, capaci in pochi anni di attività di ritagliarsi uno spazio importante, non solo all'interno dei nostri confini.
GLORY DIVERS
Esordio milanese per la band della Gloria! Apriranno loro la giornata, per scaldare la platea con grandi classici del panorama heavy mondiale: saranno una sorpresa infuocata!
E in più, come promesso, ci sarà spazio per un'altra band, una band che verrà scelta grazie a un concorso!
La settimana prossima verranno comunicati tutti i dettagli.
Inserita da:
HeavyGabry
il 30.05.2013 - Letture:
1445
Articoli Correlati
Live Reports
Spiacenti!

Non sono disponibili Live Reports correlati.
Concerti
Spiacenti!

Non sono disponibili concerti correlati.
Altre News di MetalWave
Notizia Precedente
Notizia Successiva