PLAN DE FUGA: openers per la data italiana dei The Gaslight Anthem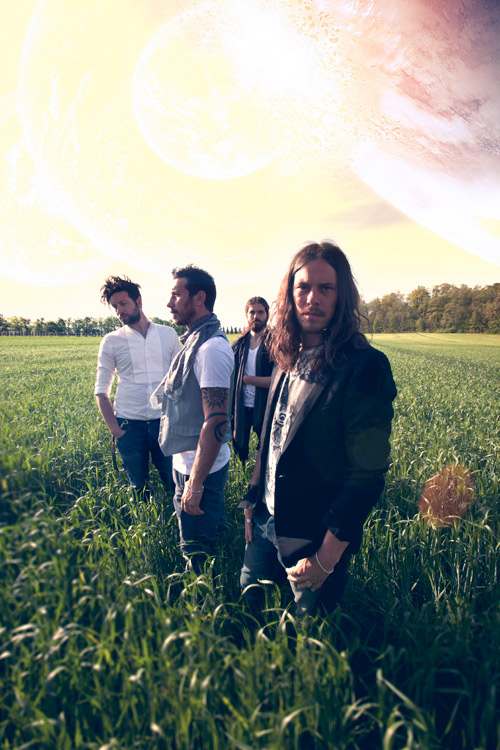 Tornano ad esibirsi in Italia a novembre i The Gaslight Anthem, e sul palco con loro, per regalare al pubblico una serata di pura energia rock, ci saranno i bresciani Plan De Fuga, una delle realtà rock italiane più innovative.
Freschi dell'uscita del loro nuovo album "LOVE°PDF", pubblicato il 2 ottobre su etichetta Carosello Records, i Plan De Fuga presenteranno in questa occasione sia brani tratti dal nuovo cd che canzoni del loro precedente lavoro discografico "In a Minute" uscito nel 2010.
"LOVE°PDF è un viaggio tra le infinite sfumature e contraddizioni del sentimento più complesso, completo e caratterizzante della natura umana. Dalle zone più remote della personalità ai rapporti con il mondo circostante, attraverso le inevitabili trasformazioni a cui siamo soggetti nella ricerca di un'evoluzione individuale e collettiva. Il risveglio dall'omologazione e il distacco da una società artefatta e drammaticamente decadente, nel desiderio di creare una coscienza globale.
Le fasi determinanti e le tappe obbligate della propria esperienza affettiva, il pericolo di ristagnare nella propria ottica e la paura del cambiamento, l'armonia e la violenza che portiamo dentro e seminiamo intorno a noi. E' la descrizione di un percorso, fatto di astrazione e materialità, fantasia e realtà, dolcezza e volgarità. Futili bisticci che nascondono montagne insormontabili, passioni artefatte che conducono alla solitudine, lo strazio della fine e il coraggio di creare un nuovo inizio". Così la band riassume lo spirito del nuovo progetto discografico.
La band per il nuovo disco ha deciso di realizzare un cortometraggio, diretto da Davide Fois, per raccontare anche con le immagini le canzoni che compongono l'album. Ogni traccia è accompagnata da un videoclip: l'insieme di questi clip dà luogo al cortometraggio vero e proprio. Una scelta originale per una delle band più sorprendenti del nuovo rock italiano.
L'ultimo singolo, che è stato anche The Rocket su Virgin Radio, è la bellissima "Touchè"
http://www.youtube.com/watch?v=6lSsG3i1omE
La musica dei Plan de fuga è un rock contaminato da influenze pop, funk e dark. L'intenzione è di miscelare i diversi stili e le diverse influenze musicali dei componenti mantenendo una continuità nelle atmosfere e nei suoni. Varietà stilistica e ampi spazi a passaggi strumentali sono tra le peculiarità compositive della formazione. Il nome, "piano di fuga" in lingua spagnola, rispecchia il desiderio della band di comunicare il proprio messaggio musicale e misurarsi anche con la scena internazionale, motivo per cui i testi sono in lingua inglese.
I Plan de fuga si formano nel 2005. Dopo anni di live in Italia e all'estero, nel 2009 firmano il loro primo contratto discografico con l'etichetta indipendente About Blank e pubblicano l'album d'esordio dal titolo "In a Minute". Il primo singolo estratto dall'album, "Twice", riscuote un ottimo successo di pubblico e critica. A Marzo 2010, a soli tre mesi dalla pubblicazione dell'album, vengono inseriti nel cast dell'Heineken Jammin' Festival, dove i sono esibiti sul prestigioso palco principale del parco San Giuliano a Venezia, assieme ad artisti di fama internazionale come Aerosmith, The Cranberries e Stereophonics. Nel gennaio 2011 i Plan de fuga vengono eletti miglior band italiana del 2010 in un sondaggio on-line indetto dai DJ di Virgin Generation. Nel 2011 diversi brani estratti dall'album "In a Minute" vengono trasmessi nel programma The Coalition Chart Show, condotto da Mike Joyce, storico batterista degli "Smiths", su East Village Radio (New York). I Plan de fuga sono: Filippo De Paoli (chitarra e voce) Marcello Daniele (basso e voce) Simone Piccinelli (chitarre, piano, rhodes) Matteo Arici (batteria).
http://www.plandefuga.net
THE GASLIGHT ANTHEM + PLAN DE FUGA
06.11.12 - Alcatraz, Milano
biglietto 25 € + ddp
Prevendite disponibili all'interno dei circuiti di vendita : Bookingshow, Vivaticket e Ticketone.
Inserita da:
Jerico
il 15.10.2012 - Letture:
972
Articoli Correlati
Altre News di MetalWave
Notizia Precedente
Notizia Successiva