MECHANICAL GOD CREATION: nuovo album entro quest'anno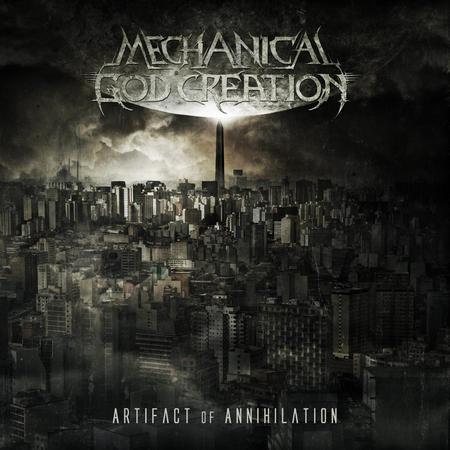 Si intitolerà "Artifact Of Annihilation" il prossimo album dei milanesi Mechanical God Creation, la cui data di uscita (per Wormhole Death Records) verrà rivelata presto.
Il bassista Andrea ha commentato:
"Abbiamo lavorato duramente, prima col nostro produttore Jonathan Mazzeo e poi con Chris Donaldson per creare l'atmosfera giusta e le melodie più adatte per questo album. Abbiamo insistito molto anche sul lato concettuale, che verte sul problema della meccanizzazione e della deumanizzazione della tecnologia che prevale oggi. Il concept ha molti riferimenti filosofici: è ispirato da Nietzsche, Heidegger e Junger tra gli altri e rappresenta una svolta radicale per noi, che si accompagna ai cambi stilistici a livello musicale.
Il disco si compone di dodici tracce e la creazione dell'artwork è stata ancora una volta affidata a Colin Marks, perché crediamo che sia uno degli artisti che riesce a catturare meglio le nostre tematiche."
Di seguito, la tracklist, la cover ed un'anteprima di "Artifact Of Annihilation:
Pyramidion
Artifact of Annihilation
Illusions
Cult Of The Machines
Shadow's Falling
Lullaby For The Modern Age
Terror In The Air
Nomos Of The Earth
Woe Of The Spiraled Desire
Ocean Of Time
Obsidian Nightfall
Inserita da:
HeavyGabry
il 10.02.2012 - Letture:
1163
Articoli Correlati
Interviste
Spiacenti!

Non sono disponibili Interviste correlate.
Live Reports
Spiacenti!

Non sono disponibili Live Reports correlati.
Concerti
Spiacenti!

Non sono disponibili concerti correlati.
Altre News di MetalWave
Notizia Precedente
Notizia Successiva