PHENOMEROCK FESTIVAL: la line-up completa dell'evento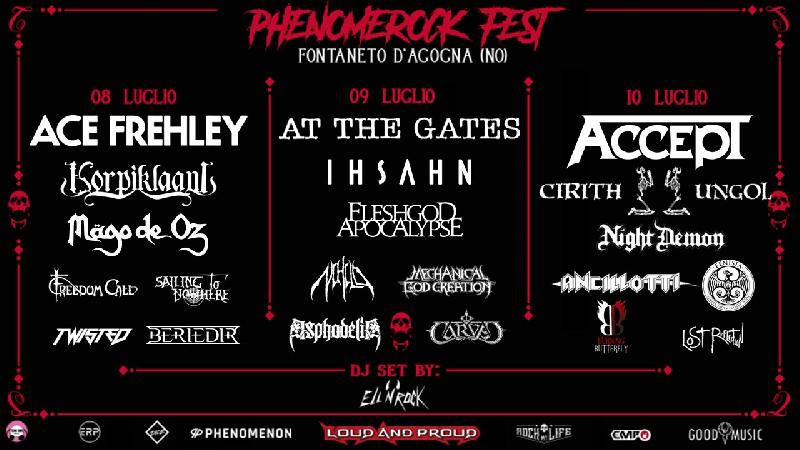 PhenomeRock Festival è l'evento ideato ed organizzato da ERocks Production e Good Music dedicato a tutti gli amanti della musica rock e metal! L'appuntamentoè per l'8-9-10 Luglio al Phenomenon Open Air di Fontaneto D'Agogna (NO). Oggi sveliamo finalmente tutte le band che si alterneranno sul palco nel corso delle serate. Tra gli Headliners ricordiamo Ace Frehley (chitarrista e co-fondatore dei Kiss) per la prima volta in Italia ed attesissimo dai fans del nostro Paese. Accept per la loro unica data italiana e Cirith Ungol, anch'essi per prima volta in assoluto nella nostra Penisola.
Ed inoltre, Korpiklaani, Mago de Oz, At The Gates, Ihsahn e molti altri. Ecco il programma completo delle tre giornate del PhenomeRock Fest!
8 LUGLIO:
Ace Frehley
Korpiklaani
Mago De Oz
Freedom Call
Sailing to Nowhere
Twisted
Beriedir
9 LUGLIO:
At The Gates
Ihsahn
Fleshgod Apocalypse
Nihlo
Mechanical God Creation
Asphodelia
Carved
10 LUGLIO:
Accept
Cirith Ungol
Night Demon
Ancillotti
Fenisia
Burning Butterfly
Lost Reflection
A rendere ancora più infuocate le serate i Dj Set di Ell 'n' Rock, che farà ballare tutti con la migliore musica in circolazione! PhenomeRock Fest ha tutte le carte in regola per essere definito l'evento rock/metal dell'estate 2022!
Partner dell'evento: Loud And Proud, Rock My Life, DICE, Tank Girl, EMP.
Phenomenon Open Air
SP229, 10, 28010 Fontaneto D'agogna NO
Come raggiungere l'evento:
https://www.google.com/.../data=!4m5!3m4
Biglietti e Prevendite su
https://dice.fm/
Costo giornata singola: 50 € (più commissioni).
Abbonamento due giornate: 90 € (più commissioni).
Abbonamento tre giornate: 130 € (più commissioni)
Segui l'evento Facebook e gli spazi social per rimanere sempre aggiornato.
FB:
https://www.facebook.com/PhenomeRockFest
IG:
https://www.instagram.com/phenomerockfest/
Evento:
https://fb.me/e/9ldtDOqBu
Inserita da:
Jerico
il 26.05.2022 - Letture:
753
Articoli Correlati
Altre News di MetalWave