HOUR OF PENANCE: a breve la ripubblicazione dell'album ''Misotheism''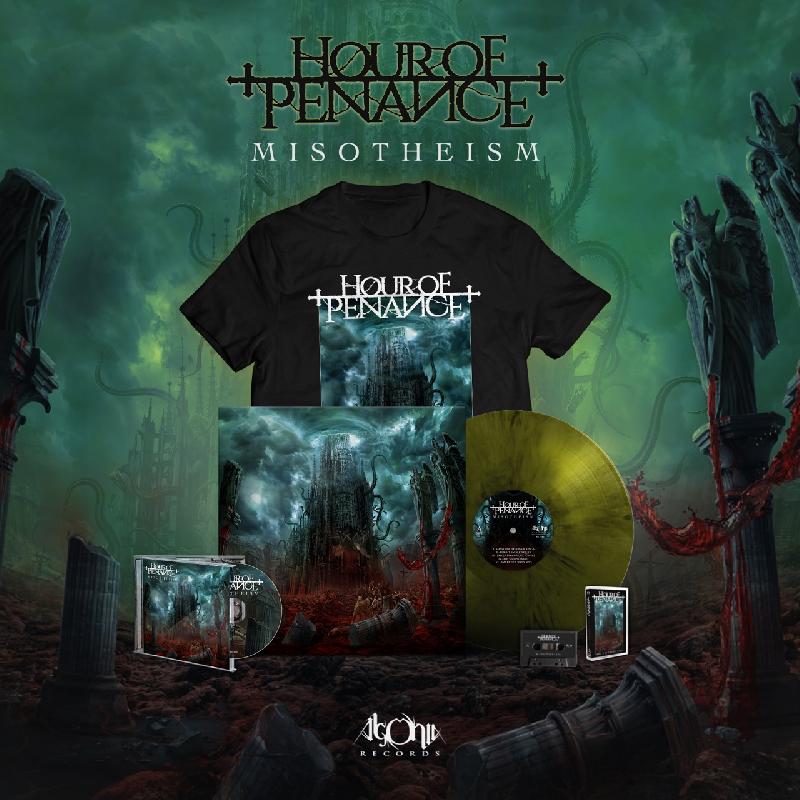 Il gruppo death metal italiano HOUR OF PENANCE ripubblicherà il suo album del 2019 "Misotheism" il 27 gennaio su Agonia Records. L'album riceverà un nuovo CD jewelcase, un LP limitato e sarà reso disponibile su nastro, per la prima volta.
La band ha in proposito affermato: "È quasi il terzo anniversario dell'uscita di Misotheism e abbiamo delle belle sorprese per voi", commenta la band. "Pubblicheremo non una, ma due edizioni limitate: un nuovissimo vinile colorato e per la prima volta potrai far esplodere la nostra musica su nastro!"
Misotheism" è il primo album di HOUR OF PENANCE per Agonia Records e l'ottavo fino ad oggi (i primi due sono stati pubblicati con Xtreem Music, i due successivi con Unique Leader Records e gli ultimi tre con Prosthetic Records). La band ha la reputazione di un venerato live act, con tour in Nord America, Europa e Australia, in compagnia di Cannibal Corpse, Behemoth, Devildriver e Misery Index, solo per citarne alcuni.Quest'anno la band ha suonato all'Hellfest e al Lions Metal Festival in Francia.
Tracklist:
1. Mass Crucifixion Of Kings
2. Blight And Conquer
3. Fallen From Ivory Towers
4. The Second Babel
5. Lamb Of The Seven Sins
6. Flames Of Merciless Gods
7. Sovereign Nation
8. Dura Lex Sed Lex
9. Iudex
10. Occult Den Of Snakes
Line-up:
Giulio Moschini - guitars
Paolo Pieri - guitars and vocals
Marco Mastrobuono - bass
HOUR OF PENANCE on-line:
Website:
http://www.hourofpenance.net/
Facebook:
https://www.facebook.com/hourofpenance
Twitter:
https://twitter.com/HourofPenance
Instagram:
http://www.instagram.com/hourofpenanceofficial
Spotify:
https://sptfy.com/20Wh
Agonia Records:
Website:
http://agoniarecords.com
Webshop:
http://tinyurl.com/agoniashop
Facebook:
https://facebook.com/agoniarecords
Twitter:
https://twitter.com/agoniarecords
SoundCloud:
https://soundcloud.com/agoniarecords
Bandcamp:
https://agoniarecords.bandcamp.com
Instagram:
https://instagram.com/agoniarecordsofficial
YouTube:
http://youtube.com/AgoniaRec
Inserita da:
Wolverine
il 18.11.2022 - Letture:
151
Articoli Correlati
Interviste
Spiacenti!

Non sono disponibili Interviste correlate.
Live Reports
Spiacenti!

Non sono disponibili Live Reports correlati.
Concerti
Spiacenti!

Non sono disponibili concerti correlati.
Altre News di MetalWave
Notizia Precedente
Notizia Successiva