SPEED STROKE: online il video di ''Scene Of The Crime''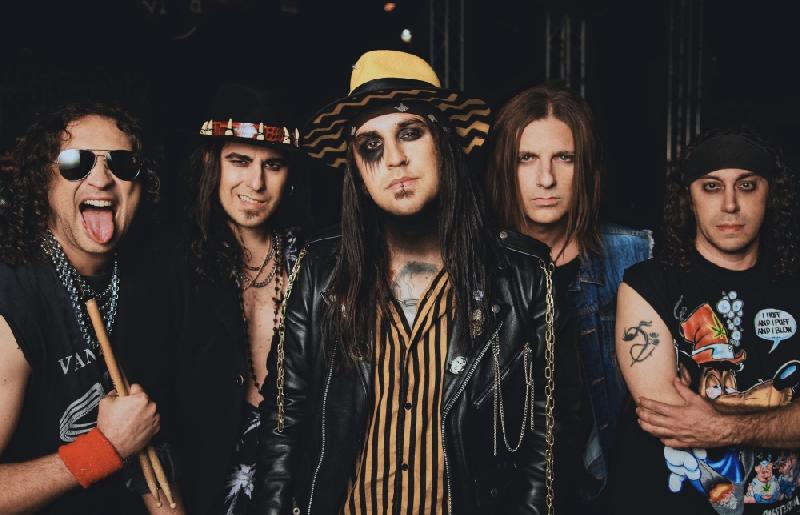 Street Symphonies Records e Burning Minds Music Group sono orgogliosi di presentare il video della title track dell'ultimo album degli Speed Stroke "Scene Of The Crime", scritto e diretto dal frontman Jack e realizzato da Filippo Cinotti.
Jack spiega: "Forse è stata colpa nostra, abbiamo attirato la sfiga più nera su questo mondo. Questa canzone, che condivide il titolo con l'album, è una lettera d'amore a tutti quei luoghi che hanno nutrito la nostra depravazione e ci hanno cresciuti come i "rocker" che siamo oggi: I luoghi in cui amiamo fare schifo. La stessa cosa vale per tutte le leggende della musica che hanno fatto crescere la loro passione in bar fumosi, dove hanno inciso scritte su sgangherati tavoli di legno e dove hanno analizzato tutte le band che sono salite sul loro palco del cuore, per poi pianificare le loro prossime mosse. Il fascino che questi luoghi hanno avuto su di me è sempre stato maestosamente grande e abbiamo voluto creare un tributo alla loro aura e l'effetto che hanno su molti di noi, musicisti e fan. Il fatto che che questa canzone sia stata scritta prima, ma che abbia vissuto e "respirato" durante una pandemia, ha un che tra il tragico e l'ironico, visto che tutti questi templi ci sono stati portati via, chiudendo temporaneamente o permanentemente. Abbiamo perso fabbriche di ricordi, abbiamo perso tempo che potevamo passare insieme, abbiamo perso tante occasioni di "uccidere i nostri momenti bui" insieme e le persone che hanno costruito e gestito questi posti hanno perso molto di più. Un mondo di lavoratori della musica in pericolo. La mia speranza è che questo pezzo sia un veicolo di buonumore e che si erga ad inno di una nuova libertà nelle "Scene del crimine" in cui tanto amiamo ritornare".
"Scene Of The Crime" è uscito il 6 Novembre 2020 su Street Symphonies Records / Burning Minds Music Group, con una versione giapponese dedicata pubblicata da Spiritual Beast / Universal Music.
Web/Social Links:
http://www.speed-stroke.com
http://www.facebook.com/speedstroke
http://www.instagram.com/speedstroke_official
speedstroke.bandcamp.com
http://www.burningmindsgroup.com/street-symphonies
http://www.facebook.com/streetsymphonies
http://www.instagram.com/burning_minds_music_group
http://www.youtube.com/StreetSymphonies
spiritual-beast.com
http://www.facebook.com/spiritualbeast
Inserita da:
Jerico
il 06.05.2022 - Letture:
184
Articoli Correlati
Interviste
Spiacenti!

Non sono disponibili Interviste correlate.
Live Reports
Spiacenti!

Non sono disponibili Live Reports correlati.
Concerti
Spiacenti!

Non sono disponibili concerti correlati.
Altre News di MetalWave