METALITALIA.COM FESTIVAL 2019: THE CROWN, CRAZY LIXX e altre conferme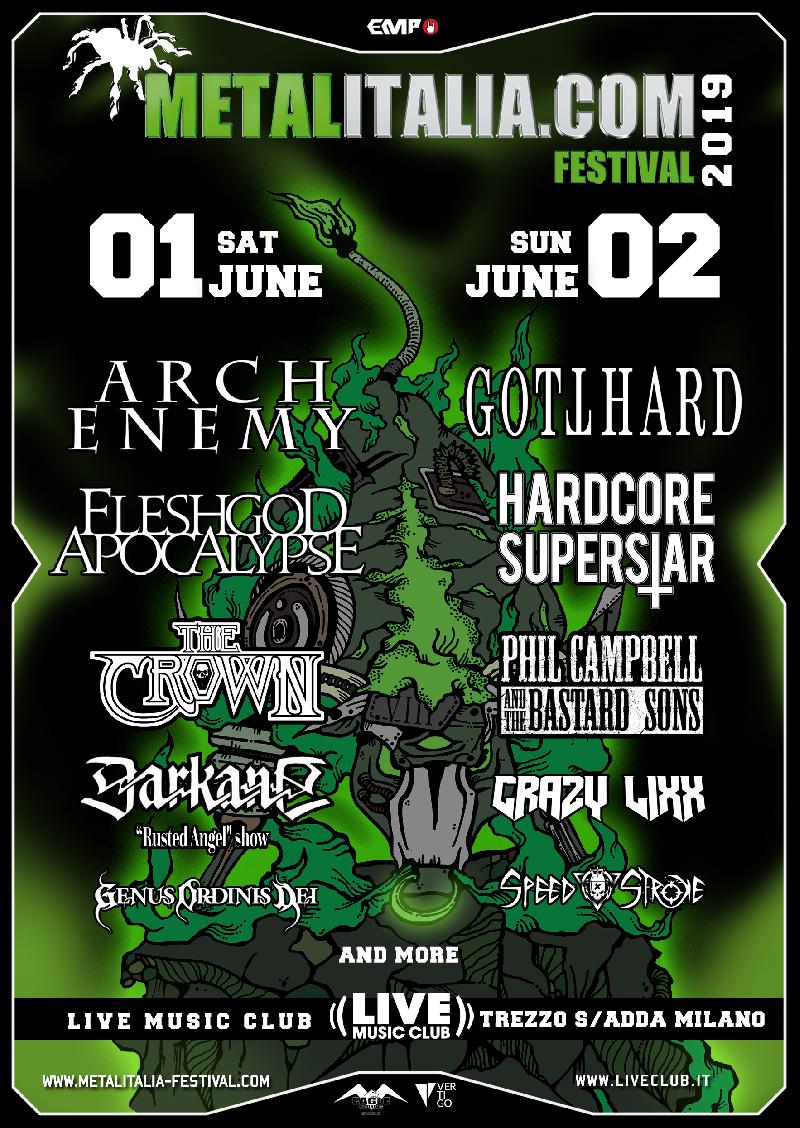 Dopo il primo annuncio con gli headliner e altre grandi band, Metalitalia.com, Eagle Booking e Vertigo annunciano alcune delle altre formazioni che suoneranno al Metalitalia.com Festival 2019, evento che si terrà nei giorni 1 e 2 giugno al Live Music Club di Trezzo sull'Adda (MI)
SABATO 1 GIUGNO 2019
A fianco di ARCH ENEMY, FLESHGOD APOCALYPSE e DARKANE con tutto "Rusted Angel", abbiamo l'onore di riportare in Italia un'altra formazione cardine della scena death thrash svedese. Autori dei capolavori "Hell Is Here", "Deathrace King" e "Crowned in Terror" o dell'ultimo convincente "Cobra Speed Venom", ecco a voi i THE CROWN!
Ad aprire il festival avremo invece una delle band italiane più attive e in crescita degli ultimi anni, i symphonic death metaller GENUS ORDINIS DEI!
DOMENICA 2 GIUGNO 2019
Per questa seconda giornata dedicata all'hard rock e alle sue varie sfaccettature, oltre a GOTTHARD, HARDCORE SUPERSTAR e PHIL CAMPBELL AND THE BASTARD SONS, avremo il piacere di ospitare gli svedesi CRAZY LIXX, che al festival presenteranno il nuovo album "Forever Wild", in uscita pochi giorni prima per Frontiers Records!
Non mancheranno anche band italiane ovviamente e i primi ad essere confermati sono gli adrenalinici SPEED STROKE, che con l'ultimo album "Fury" hanno raccolto ottimi consensi da critica e pubblico.
Rimanete sintonizzati perchè a breve daremo nuovi annunci!
METALITALIA.COM FESTIVAL 2019
Live Music Club – Trezzo sull'Adda (MI)
Sabato 01 giugno 2019
ARCH ENEMY
FLESHGOD APOCALYPSE
THE CROWN
DARKANE – special "Rusted Angel" show
GENUS ORDINIS DEI
+ many more
Domenica 02 giugno 2019
GOTTHARD
HARDCORE SUPERSTAR
PHIL CAMPBELL AND THE BASTARD SONS
CRAZY LIXX
SPEED STROKE
+ many more
Evento Facebook a questo indirizzo
https://www.facebook.com/events/604659093323532/
BIGLIETTI:
Singola giornata in prevendita: €35.00 + diritti
Singola giornata in cassa: €40.00
Abbonamento in prevendita: €60 + diritti
Abbonamento in cassa: €70
Prevendite già disponibili su Ticketone e punti vendita autorizzati.
Info:
METALITALIA.COM
http://www.metalitalia-festival.com
http://www.facebook.com/Metalitalia.comFestival
http://www.metalitalia.com
EAGLE BOOKING
http://www.eaglebooking.com
http://www.facebook.com/eaglebooking.livepromotion
VERTIGO
http://www.vertigo.co.it
http://www.facebook.com/VertigoHardSounds
http://www.facebook.com/vertigo.co.it
LIVE CLUB
http://www.liveclub.it
SUPPORTED BY:
EMP Mailorder
http://www.emp-online.it
Inserita da:
Jerico
il 26.02.2019 - Letture:
1150
Articoli Correlati
Altre News di MetalWave