VALLEY UNDER SIEGE e THE BAD SIDE: gemellaggio tra i due festival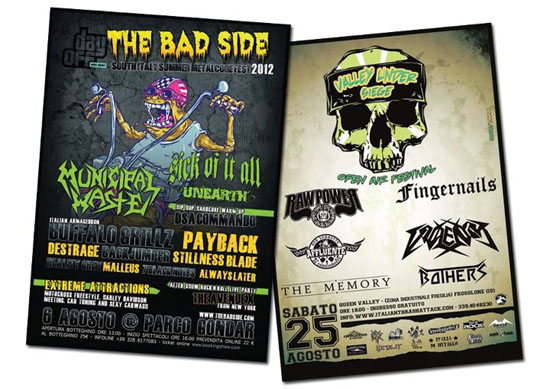 Siamo fieri di comunicare il gemellaggio ufficiale tra i due festival italiani "THE BAD SIDE" e "VALLEY UNDER SIEGE". I due eventi, che si terranno rispettivamente a Gallipoli (Lecce) e Frosolone (Isernia), sono organizzati con passione ed onestà da chi vive e supporta da anni la scena metal e hardcore, riuscendo ad affiancare grandi nomi nazionali ed internazionali a band del valido underground italiano. DAY OFF EVENTI e ITALIAN THRASH ATTACK sono quindi fieri di annunciare la loro collaborazione per l' edizione 2012 dei due concerti.
Tutti i dettagli dei due eventi sono disponibili sulle pagine web ufficiali sotto riportate. Vi aspettiamo rispettivamente il 6 e 25 agosto!
lunedì 6 AGOSTO 2012
"THE BAD SIDE FESTIVAL" -
http://www.thebadside.com
@PARCO GONDAR, GALLIPOLI (LECCE)
- MUNICIPAL WASTE
- SICK OF IT ALL
- UNEARTH
- Dsa Commando
- Buffalo Grillz
- Payback
- Stillness Blade
- Destrage
- Backjumper
- Reality Grey
- Always Later
- 7 Black Notes
- Malleus
——————————————————————–
sabato 25 AGOSTO 2012
"VALLEY UNDER SIEGE" OPEN AIR FESTIVAL pt.2 -
http://www.italianthrashattack.com/site/valley-under-siege-open-air-festival-pt-2
@QUEEN VALLEY (Zona Industriale Fresilia), FROSOLONE (IS)
- RAW POWER
- FINGERNAILS
- AFFLUENTE
- VIOLENTOR
- THE MEMORY
- BOTHERS
Inserita da:
Jerico
il 24.06.2012 - Letture:
1485
Articoli Correlati
News
Spiacenti!

Non sono disponibili altre notizie correlate.
Recensioni
Spiacenti!

Non sono disponibili Recensioni correlate.
Interviste
Spiacenti!

Non sono disponibili Interviste correlate.
Live Reports
Spiacenti!

Non sono disponibili Live Reports correlati.
Concerti
Spiacenti!

Non sono disponibili concerti correlati.
Altre News di MetalWave
Notizia Precedente
Notizia Successiva