HOUR OF PENANCE: il trailer del nuovo album ''Misotheism''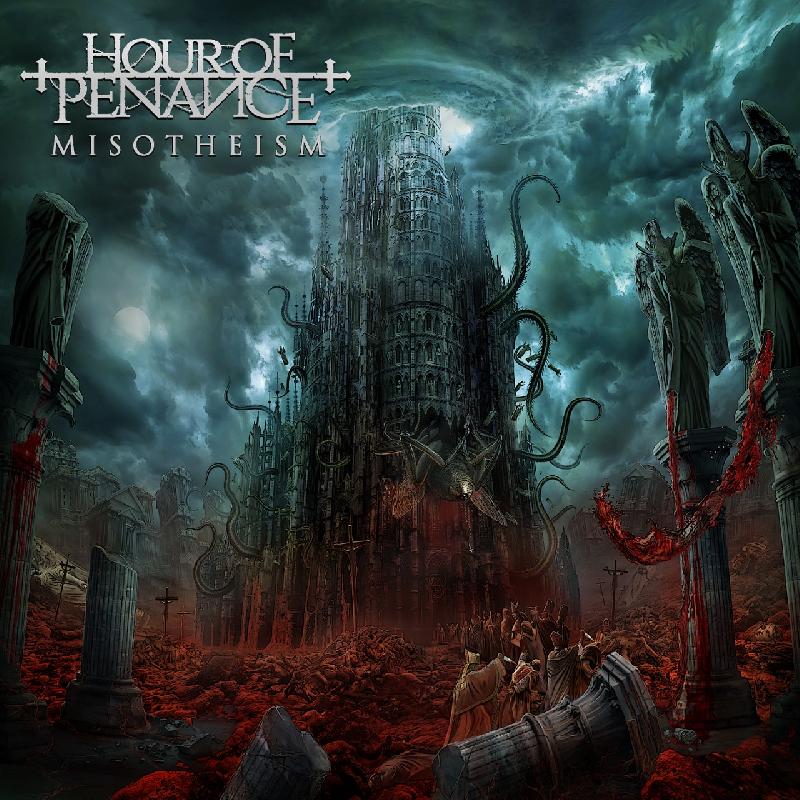 Gli HOUR OF PENANCE, tecnica metal death black italiana, ha rilasciato il trailer per il suo prossimo album in studio intitolato "Misotheism", in uscita il 25 ottobre su Agonia Records.
La band intraprenderà un tour come headliner nel Regno Unito insieme a Demim e Cryptic Shift il prossimo dicembre. Dopo il completamento del tour, la band si esibirà all'Eindhoven Metal Meeting nei Paesi Bassi; di seguito saranno annunciate presto altre date.
Formatisi nel 1999 a Roma, gli HOUR OF PENANCE hanno percorso una lunga strada per ritrovarsi al punto tale da realizzare spettacoli di death metal intensi, talentuosi e sorprendenti più di ogni altra band italiana. Allo stesso tempo, il loro ottavo episodio "Misotheism" nasconde la stessa perfezione sincera e consapevole, che ha portato ad una rivolta della band. "Come abbiamo fatto con i nostri dischi precedenti, abbiamo iniziato a lavorare su questo con la stessa passione e attenzione come se stessimo per registrare il nostro primo album", afferma il gruppo. "Non abbiamo mai dato nulla per scontato, non solo tenendo presenti gli standard che i nostri fan si aspettano, ma spingendo anche noi stessi a provare a perfezionare il suono". La loro eccitazione per il death metal non ha eliminato la loro attenta attitudine ad unire tutti gli aspetti: "Non abbiamo mai pensato che saremmo arrivati ​​così lontano con la nostra carriera, e mentre non sentivamo alcuna pressione a scrivere questo disco, questa volta abbiamo sicuramente dedicato una maggiore attenzione. In effetti, l'album è stato registrato in tre diversi studi e gestito da tre diversi ingegneri del suono ".
Ciò che riceviamo alla fine è di gran lunga migliore di ciò che qualcuno potrebbe desiderare: "Misotheism" è una colonna sonora di death black metal deliziosamente brutale in un universo che sta crollando. "gli Hour of Penance hanno spinto sino a trovare un nuovo livello di creatività. Siamo fiduciosi che apprezzerete il nuovo album tanto quanto noi aggiunge la band.
Di seguito Tracklist e line up:
Tracklist:
1. Mass Crucifixion Of Kings
2. Blight And Conquer
3. Fallen From Ivory Towers
4. The Second Babel
5. Lamb Of The Seven Sins
6. Flames Of Merciless Gods
7. Sovereign Nation
8. Dura Lex Sed Lex
9. Iudex
10. Occult Den Of Snakes
Limited edition bonus tracks:
11. Misconception (2007 demo)
12. Slavery In A Deaf Decay (2007 demo)
13. Hierarchy Of The Fools (2007 demo)
Line-up:
Giulio Moschini - guitars
Paolo Pieri - guitars and vocals
Marco Mastrobuono - bass
Davide Billia - drums
Inserita da:
Wolverine
il 03.09.2019 - Letture:
335
Articoli Correlati
Interviste
Spiacenti!

Non sono disponibili Interviste correlate.
Live Reports
Spiacenti!

Non sono disponibili Live Reports correlati.
Altre News di MetalWave