SKORBUTIKS, MEMBRANCE, CATTIVATOR OF DEATH, BASARA: presto disponibile lo split-CD ''Highway to Schifo''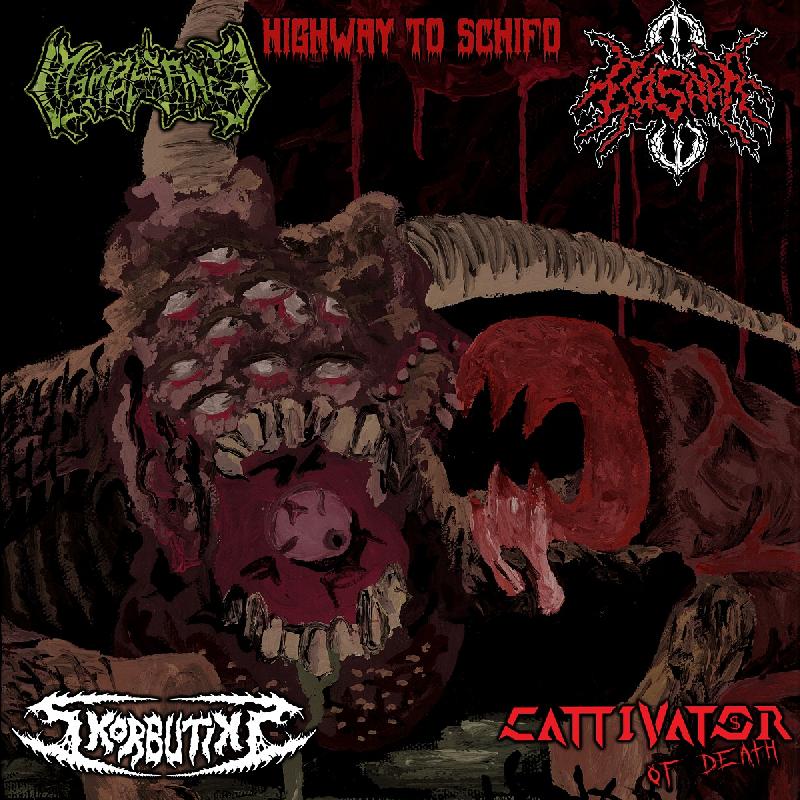 Quattro band dedite alle sonorità estreme un giorno decidono di unire le forze e con il supporto della label Envenomed Music danno vita ad un'oscura creatura che prende la forma di uno split-CD dal titolo "Highway to Schifo".
Il metal estremo contenuto in "Highway to Schifo" ha varie sfaccettature: dal death metal old school degli SKORBUTIKS, al death 'n roll dei MEMBRANCE, passando al "rave metal" (si avete letto bene!) dei CATTIVATOR OF DEATH, per finire con il grind-sperimentale dei BASARA.
La pubblicazione è prevista per il 28 Maggio 2018, sarà disponibile in una tiratura limitata di 500 copie e tramite Sepulchral Silence la verisone digitale su tutte la maggiori piattaforme del settore.
Sono 17 le tracce della nuova release:
1. Membrance - High Tide
2. Membrance - Tarantula
3. Membrance - Groovy
4. Membrance - Acid Satanism
5. Cattivator of Death - Chiappe nelle Chiappe
6. Cattivator of Death - Tupatupator
7. Cattivator of Death - Bei Cazzi
8. Cattivator of Death - Pompo Duro
9. SKORBUTIKS - Death Breed Implants
10. SKORBUTIKS - Tombbath
11. SKORBUTIKS - Vision and Monolith
12. Basara - Lithopedion
13. Basara - Hibakusha
14. Basara - The Path is Carved into the Skin
15. Basara - Occlusi nel Vostro Ego
16. Basara - Disagio
17. Basara - Le mie Fertili Ceneri
Inserita da:
Wolverine
il 22.05.2018 - Letture:
927
Articoli Correlati
Interviste
Live Reports
Spiacenti!

Non sono disponibili Live Reports correlati.
Concerti
Spiacenti!

Non sono disponibili concerti correlati.
Altre News di MetalWave