HAMMER OF THE GODS FESTIVAL I: i dettagli del fest milanese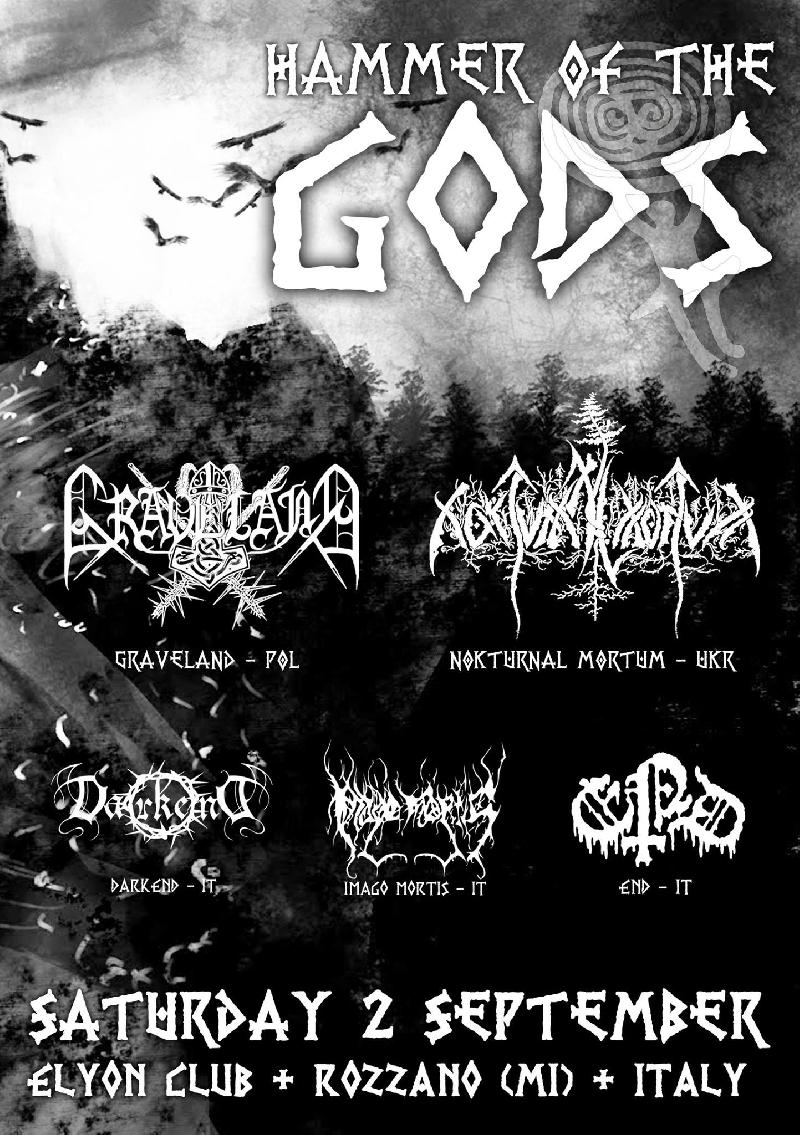 Nihil Prod presents
HAMMER OF THE GODS Festival I
Sabato 2 Settembre / Saturday, September 2, 2017 - APERTURA PORTE / DOORS OPEN 19:30
- GRAVELAND (Pol) 00:00 - 01:20
http://www.facebook.com/GravelandPoland
- NOKTURNAL MORTUM (Ukr) 22:30 - 23:40
http://www.facebook.com/nokturnalmortumofficial
- DARKEND (Ita) 21:40 - 22:10
http://www.facebook.com/darkendofficial
- IMAGO MORTIS (Ita) 20:55 - 21:25
http://www.facebook.com/imago.mortis.1994
- END (Ita) 20:10 - 20:40
http://www.endblackmetal.ml
ELYON CLUB
Via Sesia 10
ROZZANO (MI)
APERTURA PORTE / DOORS OPEN 19:30
!!!Air Conditioned Club!!!
Ticket price at the door: 40 euros
Ticket price in presale: 40 euros commissions included
Presales will be closed on 28 august. Tickets will be available at the door!
Le prevendite chiuderanno il 28 agosto. I biglietti saranno disponibili anche in cassa il giorno del concerto!
PRESALE:
How to buy: send 40 euros for each ticket you want to buy via paypal to shrine10@hotmail.com.
Please specify in the transaction NAME and SURNAME of EACH ticket owner, and also an email address to receive the printable pdf tickets.
for infos and requests write to nihil_management@live.it
Inserita da:
Jerico
il 30.08.2017 - Letture:
1583
Articoli Correlati
Altre News di MetalWave
Notizia Precedente
Notizia Successiva