NEW DISORDER: terminate le registrazioni del nuovo video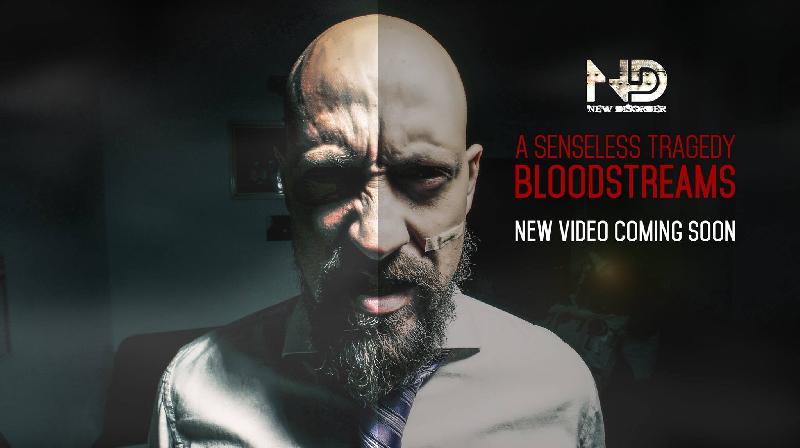 L'alternative band romana New Disorder ha da poco terminato le registrazioni del nuovo video "A Senseless Tragedy (Bloodstreams)", la cui uscita è prevista a settembre, per la regia di Paul Sciò.
"A Senseless Tragedy (Bloodstreams)" segue il fortunato "Never Too Late To Die" e diventa quindi il secondo singolo estratto da "Straight To The Pain", scelto attraverso un sondaggio on line tra i fan e sancito anche dal gradimento riscontrato tra i media di settore.
Il videoclip racconta per immagini una vicenda di follia omicida che avviene tra le pareti domestiche, in un contesto familiare apparentemente idilliaco. La noia e la routine di una vita senza emozioni forti possono sfociare in tragedia alla minima sollecitazione esterna. Allo spettatore interpretare il senso del messaggio e scoprire se la tragedia si consuma realmente o si tratta solamente dell'incubo del protagonista.
I membri della band, pur essendo costantemente presenti nel videoclip, in cui sono completamente immersi, non interagiscono con i personaggi della storia, sono piuttosto un alter ego del protagonista, di cui raccontano e vivono le azioni.
"A Senseless Tragedy (Bloodstreams)" è in arrivo!
Biografia New Disorder
Attivi in tutto il mondo, i New Disorder nascono a Roma nell'aprile 2009, per proporre da subito brani originali capaci di riassumere i diversi background dei componenti. Da ciò deriva un sound che richiama varie influenze, andando dall'alternative rock al metal, al punk, con testi esclusivamente in lingua inglese.
All'attivo hanno già 4 lavori in studio che gli sono valsi grandi riconoscimenti in tutto il mondo, un tour nazionale ed un tour da headliner nell'Europa del Nord-Est. A partire dall'esordio con "Hollywood Burns" (2009) e "Total Brain Format" (2011) , i New Disorder si sono fatti conoscere per la serietà della propria proposta e l'energia che da sempre li caratterizza. Sono poi seguiti gli album "Dissociety" (2013) e il più recente "Straight To The Pain" (Agoge Records - 2015), anticipato proprio dal singolo "Never Too Late To Die".
Forti di questi successi i New Disorder si preparano ad un nuovo tour nazionale che a sua volta anticipa un imminente tour Europeo in via di definizione.
Vi invitiamo a conoscere meglio questa incredibile band attraverso il seguente link:
http://www.romebywild.it/new-disorder-scheda-band
Inserita da:
Jerico
il 09.06.2015 - Letture:
946
Articoli Correlati
Interviste
Spiacenti!

Non sono disponibili Interviste correlate.
Live Reports
Spiacenti!

Non sono disponibili Live Reports correlati.
Concerti
29 Mar. 2019

New Disorder + Wait Hell In Pain @ "Wishlist Club", Roma (RM)
Altre News di MetalWave
Notizia Precedente
Notizia Successiva