DGM «Wings Of Time (2019 Remasters)» (2019)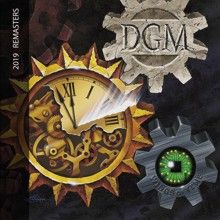 Autore:
Snarl

»
Recensione Pubblicata il:
07.01.2020
Visualizzazioni:
262
Band:
DGM





Titolo:
Wings Of Time (2019 Remasters)
Nazione:
Italia
Formazione:
Luciano Regoli :: Vox
Maurizio Pariotti :: Keyboards
Marco Marchiori :: Bass
Fabio Constantino :: Drums
Diego Reali :: Guitars
Genere:
Progressive Metal
Durata:
1h 2' 10"
Formato:
CD
Recensione
Tempo di ristampa per i ben noti DGM, che in questo caso ci propongono un remaster del loro secondo album chiamato "Wings of time", ristampato con tanto di bonus track conclusive, che nella fattispecie consistono in una cover dei Whitesnake, un remaster di un brano contenuto in un loro Ep e una bonus track per il mercato giapponese, per una durata complessiva di oltre un'ora.
E il tutto migliora la qualità sonora che in effetti costituiva il tasto dolente dell'originale "Wings of time", che accompagna una musica curiosamente molto spesso ancora alla Dream Theater (fatta salva qualche partitura più barocca) e meno originale, solo raramente che va a appoggiarsi al power metal, come in brani tipo "I'll dream of you", e ancora più raramente a bordate heavy come "The other side" vagamente alla Manowar. Per il resto, il punto di riferimento sono e rimangono la band di Petrucci del periodo di "Awake" e forse anche "When dreams and day unite", con un costrutto ritmico che a volte ricalca quanto fatto dagli americani sul ritornello insieme a certi cambi di tempo. Per il resto, fortunatamente la classe c'è e non si tocca, con uno stile che magari doveva ancora perfezionarsi in quanto a originalità, ma che comunque brillava già per prestazione vocale, nonché per la presenza di bei brani come la potente "The other side", o la barocca "Guiding light".
In conclusione: gradevole retrospettiva, con tanto di bonus tracks per i fans. Una occasione ghiotta da non farsi sfuggire se questo è il genere musicale che fa per voi.
Track by Track
Guiding light

75

I'll dream of you

75

Mirrors of the night

75

Deep inside

70

The other side

80

Waiting for the sunrise

75

A drop of shadow

80

Nightmare

75

Hard race (remastered)

70

Silence (Japan bonus track)

75

Fool for your loving (Cover Whitesnake)

S.V.
Giudizio Confezione
Qualità Audio:

75

Qualità Artwork:

75

Originalità:

70

Tecnica:

80
Recensione di
Snarl

»
pubblicata il 07.01.2020. Articolo letto
262
volte.
Articoli Correlati
Live Reports
Spiacenti!

Non sono disponibili Live Reports correlati.
Concerti
Spiacenti!

Non sono disponibili concerti correlati.