Celeb Car Crash «People are the Best Show» (2016)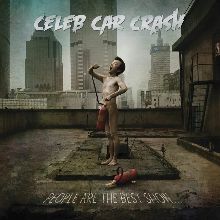 Autore:
Ladystardust

»
Recensione Pubblicata il:
28.10.2016
Visualizzazioni:
1301
Band:
Celeb Car Crash







Titolo:
People are the Best Show
Nazione:
Italia
Formazione:
Nicola Briganti – voce/chiatarra
Carlo Alberto Morini – chitarra/ voce
Michelangelo Naldini – batteria
Simone Benati – basso
Genere:
Rock
Durata:
48' 44"
Formato:
CD
Recensione
I Celeb Car Crash, sono nati 2012 e composti da quattro musicisti originari da band svariate, Nicola Briganti, voce e chitarra, Carlo Alberto Morini, chitarra e seconda voce, Michelangelo Naldinialla batteria e Simone Benati al basso. Il gruppo si è conquistato un successo con la loro proposta rock mista ad alternative e grunge.
La band torna con "People Are The Best Show" dopo tre anni l'uscita del loro primo album "Ambush".
Il loro nuovo album esce dopo trascorsi live per la maggior parte dello scorso anno.
L'album è uscito il 21 settembre in tutti i digital stores ed i servizi di streaming online, per l'etichetta 1981 Records.

"People Are The Best Show" è un album che rappresenta le qualità musicali del gruppo, senza orpelli ed infiorettature.
Il brano d'apertura, "Let Me In" è aggressivo e d'impatto, un buon misto tra grunge e rock.
La seconda traccia "Because I'm Said", è invece più cruda ed il cui intro acustico inganna, molto dolce, per poi sfociare in grezzo rock.
"Stereo (The Body Of Christ)", è veramente molto grunge il cui sound è stemperato con musicalità tipicamente rock.
"Hello, Morning" e "Murder Party" sono a mio parere i pezzi migliori dell'album, molto immediati.

Degno di nota l'artwork di copertina che è stato realizzato in collaborazione con Maleonn, uno dei più importanti visual artists Cinesi. I lavori di Maleonn sono esposti in tutti il mondo attraendo l'attenzione di testate come The Guardian, Daily Mail e la BBC.
I Celeb Car Crash danno nuova prova delle proprie capacità coinvolgenti, "People Are The Best Show" è nel complesso un gran bel disco che mostra la maturità artistica raggiunta fino ad ora dalla band, un disco imprevedibile, in cui nulla è dare da scontato, sonorità "cupe" che si intrecciano con melodie più scattanti e che mi ha messa di buon umore.
Veramente consigliato a tutti, qualsiasi gusto musicale possiate avere.
Track by Track
Let me In

75

Because I'm Sad

75

The Whereabouts

75

Outdone

75

Hello, 'Morning

80

Murder Party

80

January

75

Enemy's Desire

75

Stereo (The Body of Christ)

75

Hangin' On A Rope

75

Nothing New Under The Sun

70

Nearly In Bloom

75
Giudizio Confezione
Qualità Audio:

80

Qualità Artwork:

80

Originalità:

80

Tecnica:

80
Recensione di
Ladystardust

»
pubblicata il 28.10.2016. Articolo letto
1301
volte.
Articoli Correlati
Interviste
Spiacenti!

Non sono disponibili Interviste correlate.
Live Reports
Spiacenti!

Non sono disponibili Live Reports correlati.
Concerti
Spiacenti!

Non sono disponibili concerti correlati.