Black Therapy «The Final Outcome» (2014)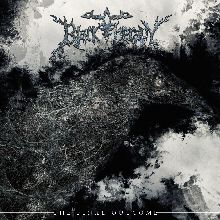 Autore:
Dust

»
Recensione Pubblicata il:
10.02.2015
Visualizzazioni:
1294
Band:
Black Therapy






Titolo:
The Final Outcome
Nazione:
Italia
Formazione:
Giuseppe Massimiliano Di Giorgio – Vocals
Luca Soldati – Drums
Daniele Rizzo -Guitars
Lorenzo "Kallo" Carlini – Guitars
Marco Cattaneo – Bass
Genere:
Melodic Death Metal
Durata:
16' 27"
Formato:
CD
Recensione
Provenienti da Roma, i Black Therapy ci propongono il loro ultimo EP uscito nel 2014 per Revalve Records "The Final Outcome"; album di quattro brani registrato presso 16th Cellar Studio di Stefano Morabito (Eyeconosclast, Fleshfod Apocalypse, Hour Of Penance), realtà che si afferma per la produzione di dischi estremi a 360 gradi.
Da sottolineare che questi ragazzi hanno partecipato ad un tour europeo con Nile, Ex Deo, Svart Crow e Vader nell'agosto del 2014.
La band ci propone un rapidissimo ascolto di Death Metal Melodico, a chi servisse avere per forza delle coordinate musicale per muoversi in questo genere, possiamo annoverare di sicuro i Dark Tranquillity come band principale di riferimento. A timbrare il cartellino in questo lavoro troviamo anche Francesco Ferrini (FLESHGOD APOCALYPSE) alle tastiere di Mad World (cover del pezzo divenuto forse più celebre come colonna sonora del film "Donnie Darko").
Fatte le dovute note biografiche e referenze, cosa di questo disco? Prima di tutto, è un lavoro di assoluta qualità e questo non si discute sotto nessun punto di vista, però questo progetto, e mai parola è stata più azzeccata, di sicuro non porta nulla di nuovo nell'immenso panorama italiano ne tanto meno mondiale rispetto alle migliaia di band che si cimentano in questo genere. Possiamo dire che probabilmente quattro brani non sono abbastanza per farci un'idea delle linee compositive battute dai Black Therapy, però di fatto questo abbiamo per farci un'idea di loro. Ho evidenziato in precedenza la parola "progetto" perché mentre cerco di farmi un'idea di questo gruppo, cosa che faccio sempre, mi trasmettono un'immagine molto studiata, fin troppo da non lasciare spazio a contributi personali e senza ricerca di qualcosa di veramente proprio. Ovviamente questa è una mia impressione, il dato di fatto è che questo "The Final Outcome" è un ottimo disco, probabilmente ancora vuoto di personalità, ma di sicuro di ben interpretato e suonato molto bene; gli amanti del genere lo apprezzeranno di sicuro almeno quanto me.

Track by Track
The Final Outcome

75

Black Crow

80

Mad World

70

Sunset of the Truth

75
Giudizio Confezione
Qualità Audio:

80

Qualità Artwork:

75

Originalità:

65

Tecnica:

75
Recensione di
Dust

»
pubblicata il 10.02.2015. Articolo letto
1294
volte.
Articoli Correlati
Interviste
Spiacenti!

Non sono disponibili Interviste correlate.
Live Reports
Spiacenti!

Non sono disponibili Live Reports correlati.
Concerti
Spiacenti!

Non sono disponibili concerti correlati.