COWBOYS for DIMEBAG: All-Star Tribute BENEFIT SHOW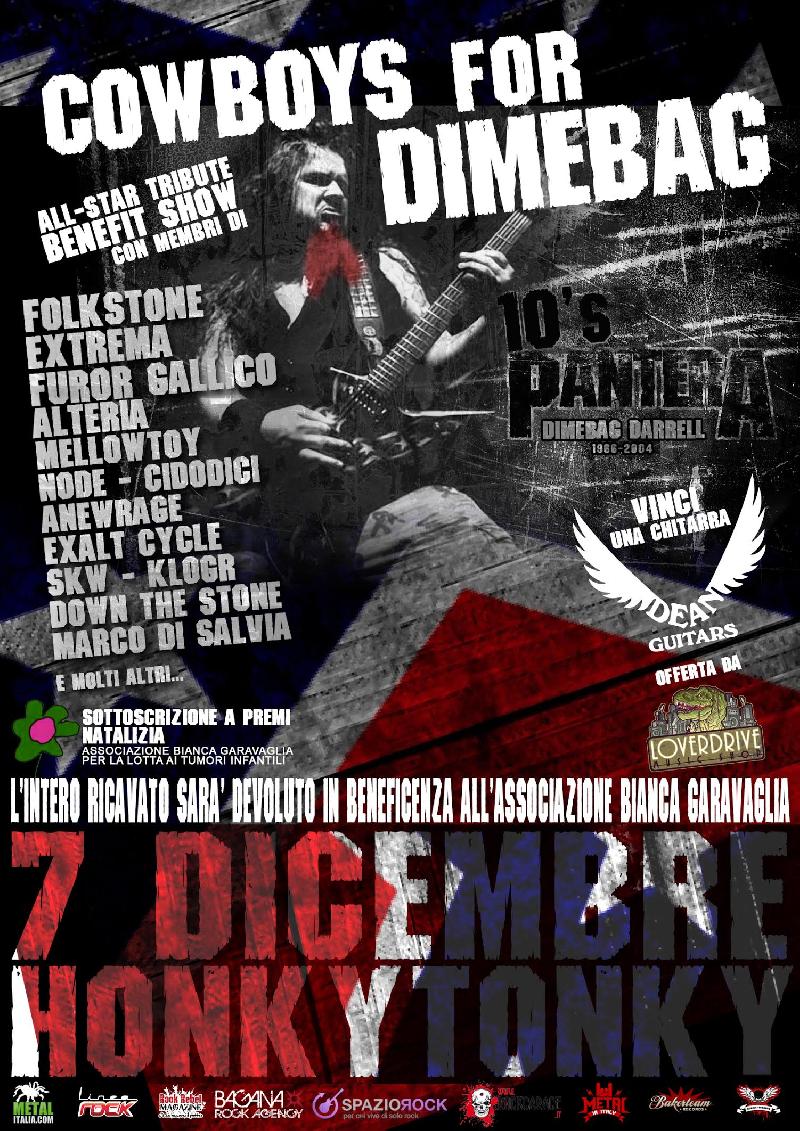 Sarà l'Honky Tonky di Seregno (MB) ad ospitare il "Cowboys for Dimebag", evento interamente benefico e dedicato alla memoria di Dimebag Darrell, storico chitarrista dei Pantera, il cui ricavato verrà devoluto all'associazione Bianca Garavaglia per la lotta ai tumori infantili.
http://www.abianca.org
Domenica 7 Dicembre una selezione di All-Star ed emergenti della musica rock/metal italiana si ritroveranno sul palco per suonare ben sedici classici della band dei fratelli Abbott, in occasione del decimo anniversario della scomparsa di uno dei chitarristi più influenti degli ultimi venticinque anni.
COWBOYS FOR DIMEBAG
Domenica 7 Dicembre 2014
Honky Tonky, via Comina 35/37, Seregno (MB)
Apertura porte h 21.30
Inizio concerti h 22.15
Ecco la line-up e la scaletta dell'evento:
A NEW LEVEL // I'M BROKEN
Davide Cicalese (Furor Gallico) // Kevin Bosetti (Burn In My Skin)
Walter Franchi (Vulgar - Pantera Tribute Band) Alessandro Di Rosa (Anymore/Underskyes)
Alessandro Ferrarese (Anewrage)
REVOLUTION IS MY NAME // THIS LOVE Axel Capurro (Anewrage) Pietro Quilichini (Klogr - Alteria)
Fabio Gatto (Furor Gallico) Luca Mazzucconi (NFD - Lahannya)
SHATTERED // THE ART OF SHREDDING Marco Sivo (ex Planethard - Instant Karma)
Mattia Dambrosio (Anger At Dusk)
Keine (Exalt Cycle - ex Beholder)
Rob Iaculli (Klogr - ex The Fire)
FIVE MINUTES ALONE // MOUTH FOR WAR G Mario Monzani (Cidodici)
Rudy Gonella Diaza (Node)
Federico Maffei (Folkstone) Fabio Catozzi (Down The Stone)
YESTERDAY DON'T MEAN SHIT // THE GREAT SOUTHERN TRENDKILL Zakk (Exalt Cycle) // Gianluca "GL" Perotti (Extrema) Gianluca Ferro Gary D'Eramo (Node)
Andrea Bacchio (Cayne)
Marco Di Salvia (Pino Scotto Band - ex Node)
PRIMAL CONCRETE SLEDGE // DOMINATION
Gianluca "GL" Perotti (Extrema) // Marco Laratro (SKW) Diego Minach (Cayne) Simone Martin (Anewrage)
Pietro Battanta (Node)
FUCKIN' HOSTILE // STRENGHT BEYOND STRENGHT
Matt Massa (Mellowtoy) Simone Anaclerio (SKW) Davide DeRobertis (Node) Edo Sala (Furor Gallico)
COWBOYS FROM HELL // WALK Alteria // Davide Cicalese (Furor Gallico) Tommy Massara (Extrema) Nando De Luca (Alteria)
Marco Di Salvia (Pino Scotto Band - ex Node) // Edo Sala (Folkstone)
L'ingresso é GRATUITO. All'entrata ed all'interno del locale sarà possibile fare una donazione ai volontari di "Musica per Carlo", l'annuale evento benefico desiano da sempre legato all'Associazione Bianca Garavaglia, per partecipare non ad una, ma a due sottoscrizioni a premi!
Con la vostra donazione potrete vincere infatti una chitarra DEAN gentilmente offerta da LOVERDRIVE MUSIC SHOP di Como e partecipare alla Lotteria di Natale dell'Associazione Bianca Garavaglia, aggiudicandovi numerosi premi che vi riveleremo nei prossimi giorni.
Non é ancora tutto. Il live show sarà accompagnato dalla proiezione dei "Vulgar Display Of Videos", dal dj set di Emi Mellowtoy e dalla musica diffusa, tutta in omaggio alla discografia di Darrell Lance "Dimebag" Abbott.
Evento Ufficiale:
http://www.facebook.com/events/316940238501469
Ingresso: GRATUITO con tessera ACSI (costo 5€, con validità annuale per tutto il 2015 e tessera 2014 ancora valida)
http://www.abianca.org
http://www.facebook.com/LOVERDRIVE.MUSIC.SHOP
http://www.honkytonky.it
Inserita da:
Jerico
il 04.12.2014 - Letture:
1985
Articoli Correlati
Interviste
Spiacenti!

Non sono disponibili Interviste correlate.
Live Reports
Spiacenti!

Non sono disponibili Live Reports correlati.
Concerti
Spiacenti!

Non sono disponibili concerti correlati.
Altre News di MetalWave
Notizia Precedente
Notizia Successiva