CALABRIAN METAL INFERNO: il bill completo della nona edizione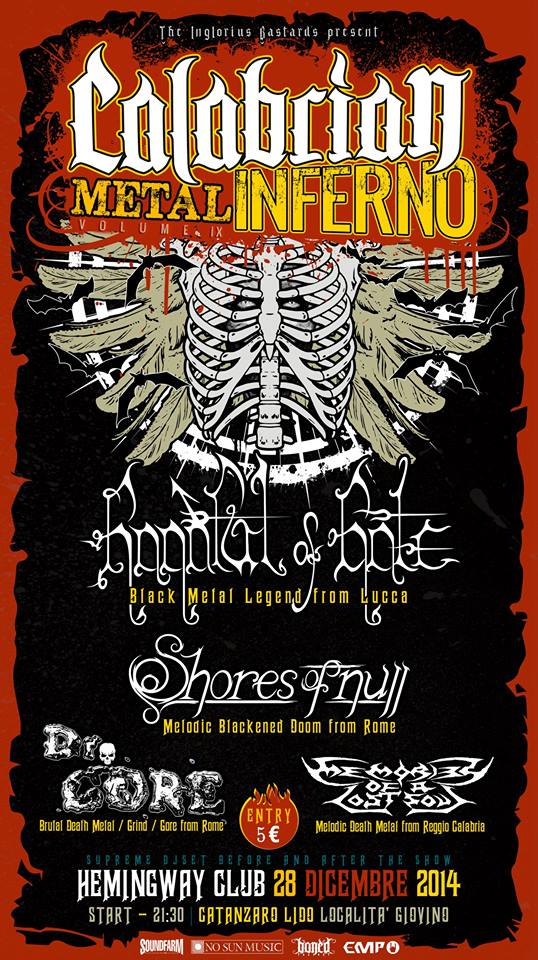 Edizione numero 9 del Calabrian Metal Inferno,
underground extreme festival come marchio di fabbrica
Ogni anno a fine dicembre, DESTROY EVERYTHING!!!
Vi aspettiamo numerosi con parastinchi, ginocchiere, canotti, materassini, bambole gonfiabili nella cornice dell'Hemingway Club a Catanzaro Lido (Pineta Giovino).
Quest'anno vi sfonderanno i timpani:
HANDFUL OF HATE
(extreme black metal masters - Lucca)
http://www.handfulofhate.com/
SHORES OF NULL
(melodic blackened doom metal - Rome)
http://shoresofnull.com/
DR. GORE
(brutal death gore zombification - Rome)
http://www.coyoterecords.ru
https://www.facebook.com/doctorgore?fref=ts
MEMORIES OF A LOST SOUL
(melodic technical death metal - Reggio Calabria)
https://www.facebook.com/pages/MEMORIES-OF-A-LOST-SOUL/138420876227282?ref=ts&fref=ts
DOMENICA 28 DICEMBRE 2014
START: 21.30
INGRESSO 5 EURO (7 Euro con consumazione - Heineken spina piccola)
DJ SET EXTREME, MERCHANDISE STANDS, EMP mailorder free gadgets and more!
SUPPORTED BY:
BONED Factory
SOUNDFARM STUDIO
No Sun Music
Emp Mailorder Italia
Inserita da:
HeavyGabry
il 16.10.2014 - Letture:
1655
Articoli Correlati
Altre News di MetalWave
Notizia Precedente
Notizia Successiva