ANCIENT DOME: split 7" con i METALHEADZ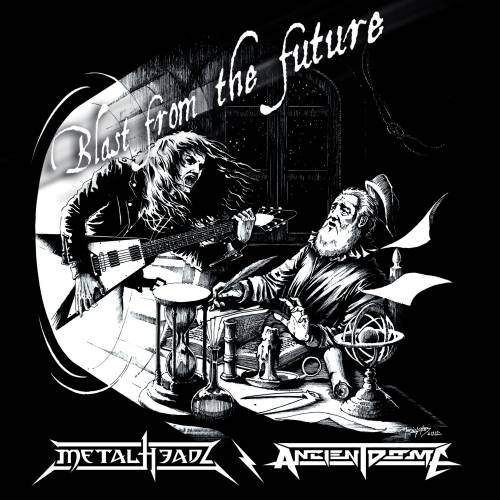 Hey folks, a breve sarà disponibile uno split su 7" dal titolo "Blast From the Future", edito dalla italiana DeathStorm Records, con i varesini Ancient Dome (Cosmic Thrash Metal) ed i veronesi Metalheadz (Porno Thrash Metal) ad unire le forze per un breve ma intenso (proprio come direbbero le vostre (e nostre) donne...) assalto a suon di thrash metal!!!
Solo 98 le copie disponibili numerate a mano, perché 100 ci sembravano troppe e 99 non si riusciva a smezzarle senza spezzarne una, oltre al fatto che le due band sono troppo true per scendere a compromessi con il sistema! [inserisci il compromesso che preferisci]
L'artwork è stato realizzato da Mario Estuardo Lopez Morales, già al lavoro con altre realtà underground internazionali.
Queste le tracce presenti:
SIDE A - Metalheadz
1. Metalheadz Attitude
SIDE B - Ancient Dome
2. The Worst You Live
3. Sottoterra
Eccovi alcuni links utili:
http://www.myspace.com/deathstormrecords
http://www.metalheadz.it
http://www.ancientdome.com
Potete ascoltare i due brani degli Ancient Dome collegandovi alla nostra pagina ReverbNation.
Maggiori dettagli a breve, state sintonizzati...
Thrash on!
Inserita da:
Jerico
il 17.02.2013 - Letture:
1384
Articoli Correlati
Live Reports
Spiacenti!

Non sono disponibili Live Reports correlati.
Concerti
Spiacenti!

Non sono disponibili concerti correlati.
Altre News di MetalWave
Notizia Precedente
Notizia Successiva