IN CASE OF CARNAGE: disponibile il nuovo "Medication Time"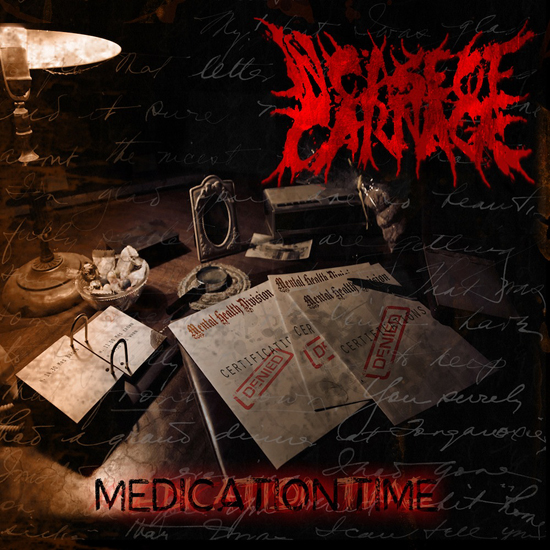 Da oggi disponibile online il debut Ep della formazione romana In Case of Carnage.
Il progetto nasce nel 2009 da una profonda passione per la scena technical/experimental death metal. La formazione definitiva risale al 2011 con HELLeonore (Scream Vocals), Paolo (Growl Vocals), Simone (8 strings Guitar), Massimo (8 strings Guitar), Enrico (6 strings Bass) e Giulio (Drums) e stesso vale per la scrittura dei brani che ritroverete in 'Medication Time'.
L'ep in questione esce completamente dagli schemi del 3/4 pezzi+intro/outro, guadagnandosi la dignità di un prodotto discografico completo a tutti gli effetti. Sei brani, che ruotano attorno alla tematica del disagio mentale e della disinvoltura farmacologica. Proprio la prospettiva di pubblicazione di questo lavoro è valso alla band la firma del contratto con Kreative Klan.
Mix and mastering di 'Medication Time' sono stati seguiti da Kreative Klan Studio (
http://www.kreativeklanstudio.com
) che dimostra di poter portare a livello anche il peggior technical death/progressive disponibile sulla piazza.
'Medication Time' Tracklist
1. Two Sides of a Man
2. Horrifying Friends
3. Out of Mind
4. Endorphin Rush
5. Black Widow
6. Shrift
Correte ad acquistare 'Medication Time' se la vostra playlist annovera nomi quali Morbid Angel, Necrophagist, Decrepit Birth, Obscure. O per dirla con le parole di ICOC [...] La fusione della brutalità death metal con l'estro del jazz da vita al genere proposto dalla band, un technical death metal violento ed articolato. [...]
E ricordate che con l'acquisto l'acquisto di qualsiasi prodotto clothing Kreative Klan, potrete scaricare l'intero Ep del tutto gratuitamente su kreativeklan.com!
BUY 'MEDICATION TIME' Digital Ep
on
kreativeklan.com :
http://www.kreativeklan.com/scheda-album.php?id_album=52
iTunes :
https://itunes.apple.com/it/album/medication-time/id591532957
Amazon :
http://www.amazon.com/Medication-Time-Explicit/dp/B00AZ7VDH2/ref=sr_shvl_album_1?ie=UTF8&qid=1358079697&sr=301-1
Inserita da:
Jerico
il 24.01.2013 - Letture:
1073
Articoli Correlati
Interviste
Spiacenti!

Non sono disponibili Interviste correlate.
Live Reports
Spiacenti!

Non sono disponibili Live Reports correlati.
Concerti
Spiacenti!

Non sono disponibili concerti correlati.
Altre News di MetalWave