ROCK IN AUTUMN CONTEST: tutte le band partecipanti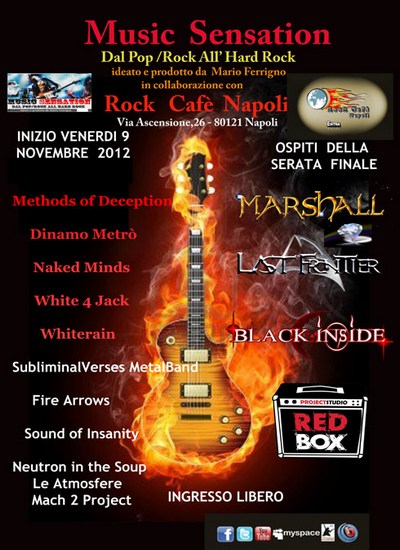 Al Rock Café di Napoli si sta svolgendo il "Rock in Autumn Contest" organizzato da Music Sensation in collaborazione con lo stesso Rock Cafè.
Il contest, che ha preso il via il 9 novembre e terminerà nel mese di dicembre, vede nuovamente Mario Ferrigno come direttore artistico. Le selezioni si tengono presso il Rock Cafè di Napoli. Lo shooting fotografico è a cura dello Studio Vertigine di Viviane Izzo. Al termine delle esibizioni sarà allestita una sua mostra fotografica.
Ecco i nomi delle band che partecipano al Contest: Methods Of Deception, Dinamo Metrò, Naked Minds, White 4 Jack, Whiterain, Subliminalverses, Fire Arrows, Sound Of Insanity, Neutron In The Soup, Le Atmosfere, Mach 2 project.
Per la finale sono previsti come ospiti i Marshall, i Black inside, i Poemisia e i vincitori del Music Sensation Live Contest: i Last Frontier. Lo sponsor ufficiale del Contest è il Red box project studio di Aversa.
Inserita da:
HeavyGabry
il 13.11.2012 - Letture:
1294
Articoli Correlati
Altre News di MetalWave
Notizia Precedente
Notizia Successiva