METALCAMP 2012: live chat con gli ELUVEITIE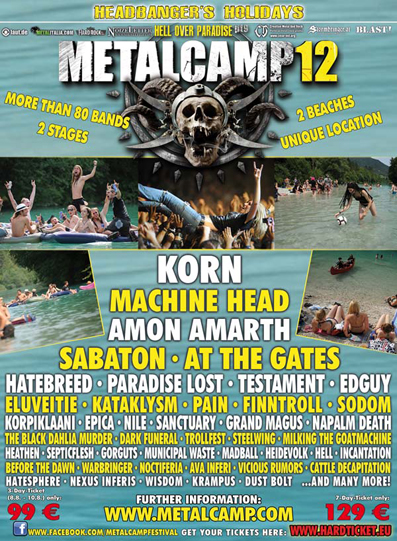 Dopo aver confermato una line-up di spessore con nomi come Korn, Machine Head, Amon Amarti, Sabaton ed Hatebreed lo staff del Metalcamp è ancora al lavoro per poter offrire una calda "Headbangers Holidays" ai suoi partecipanti.
Dopo il clamoroso successo della passata edizione ecco di ritorno la "band chat", posta sul sito ufficiale del Metalcamp (
http://www.metalcamp.com
) e che vedrà come primi protagonisti i folk metallers svizzeri Eluveitie nella persona del bassista Kay, chiamato a rispondere alle vostre domande martedì 12 giugno dalle ore 20. Per partecipare basterà registrarsi sul sito.
Eccovi il link diretto:
http://www.metalcamp.com/?page_id=1689
Controlla i ticket e i pacchetti ancora a disposizione del Metalcamp 2012 su:
http://www.hardticket.eu
Le band confermate:
KORN
MACHINE HEAD
AMON AMARTH
SABATON
AT THE GATES
HATEBREED
PARADISE LOST
TESTAMENT
EDGUY
ELUVEITIE
KATAKLYSM
PAIN
FINNTROLL
SODOM
KORPIKLAANI
EPICA
NILE
SANCTUARY
GRAND MAGUS
NAPALM DEATH
THE BLACK DAHLIA MURDER
DARK FUNERAL
TROLLFEST
STEELWING
MILKING THE GOAT MACHINE
HEATHEN
SEPTICFLESH
GORGUTS
MUNICIPAL WASTE
MADBALL
HEIDEVOLK
HELL
INCANTATION
BEFORE THE DAWN
WARBRINGER
NOCTIFERIA
AVA INFERI
VICIOUS RUMORS
CATTLE DECAPITATION
HATESPHERE
NEXUS INFERIS
WISDOM
KRAMPUS
DUST BOLT
METALCAMP 2012
Tolmin (Slovenia)
5 - 10 agosto
http://www.metalcamp.com
http://www.facebook.com/MetalcampFestival
http://www.hardticket.eu
Inserita da:
Jerico
il 03.06.2012 - Letture:
1230
Articoli Correlati
Interviste
Spiacenti!

Non sono disponibili Interviste correlate.
Live Reports
Spiacenti!

Non sono disponibili Live Reports correlati.
Concerti
Spiacenti!

Non sono disponibili concerti correlati.
Altre News di MetalWave
Notizia Precedente
Notizia Successiva