AMBRIA METAL FESTIVAL: orari e dettagli dell'evento a ingresso gratuito con RHAPSODY OF FIRE, SECRET SPHERE, TRICK OR TREAT e altri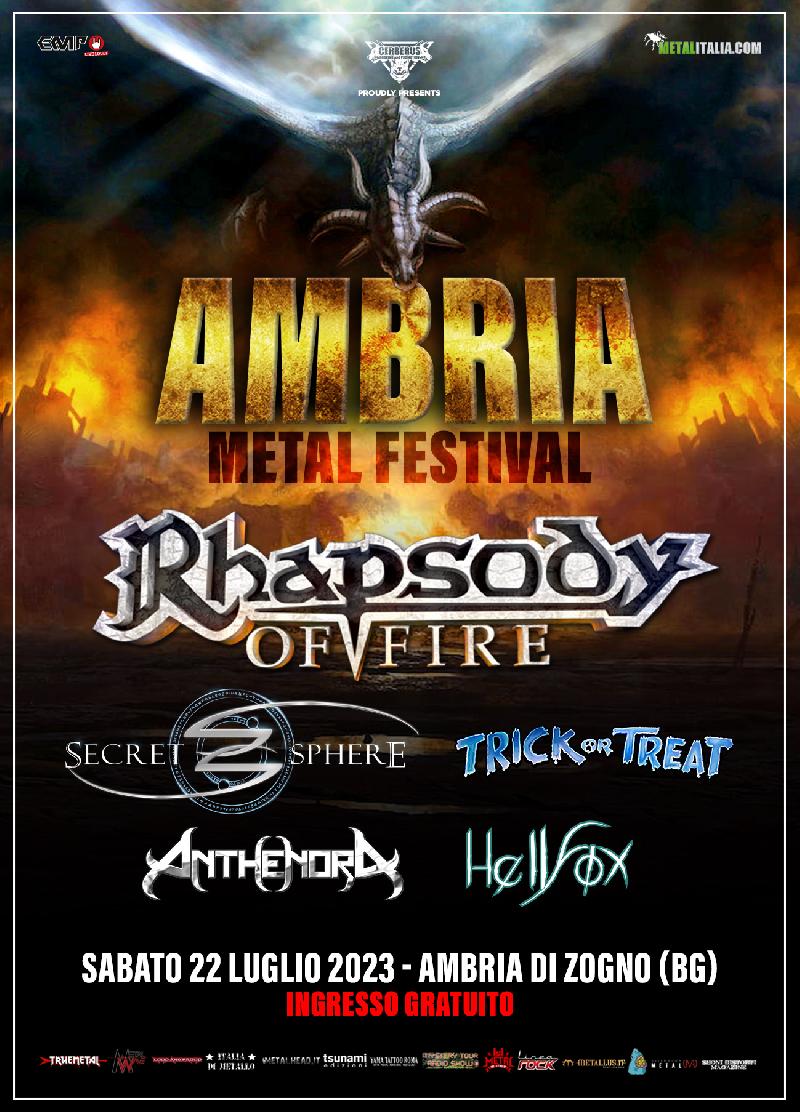 È tutto pronto per l'edizione 2023 dell'Ambria Metal Festival, uno degli eventi più attesi dell'estate lombarda. Come sempre sarà una kermesse di un'intera giornata con artisti nazionali e internazionali, ospitata nella splendida cornice offerta dalla verde Valle Brembana ad Ambria di Zogno (BG).
Anche quest'anno l'ingresso è gratuito, sul palco appositamente allestito si esibiranno: RHAPSODY OF FIRE, SECRET SPHERE, TRICK OR TREAT, ANTEHNORA e HELLFOX.
Ricordiamo che presso l'area potrete trovare un accurato servizio cucina con le tradizionali specialità gastronomiche bergamasche, una pizzeria con forno a legna, un ottimo servizio bar e birreria con le migliori birre tradizionali e artigianali. Non mancheranno ovviamente gli stand con il merchandise ufficiale delle band presenti.
Ambria Metal Festival è un evento senza scopo di lucro, il ricavato del festival sarà destinato a sostegno di attività benefiche e socialmente utili.
Di seguito i dettagli:
RHAPSODY OF FIRE 23:15
SECRET SPHERE 22:00
TRICK OR TREAT 20:55
ANTHENORA 20:00
HELLFOX 19:10
Apertura Cancelli: 17:30
Ambria Metal Festival
Sabato 22 Luglio 2023
Ambria di Zogno (BG)
Ingresso gratuito
http://www.ambriamusicfestival.it
Evento Fb:
https://www.facebook.com/events/3581044712140181
Cerberus Booking
http://www.cerberusbooking.com
Inserita da:
Jerico
il 11.07.2023 - Letture:
242
Articoli Correlati
Altre News di MetalWave
Notizia Precedente
Notizia Successiva