COFFIN BIRTH: la super band che ribalterà la scena extreme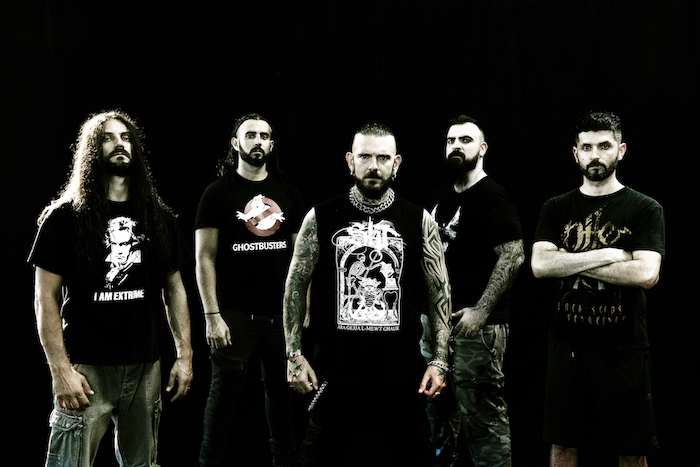 Il primo album dei Coffin Birth, la super band che ribalterà la scena extreme, esce il 30 Novembre e ha come titolo "The Serpent Insignia".
Immagina di venire espulso dai gas di un corpo in via di decomposizione e di ritrovarti immerso in una melma di fluidi corporei, avvolto da un fetore puzzolente: la fotografia musicale di tale scenario non può che essere il sound dirompente dei Coffin Birth.
Coffin Birth è un super gruppo, brutale ed esplosivo, nato dalla collaborazione tra il chitarristaGiulio Moschini (Hour of Penance), il bassista Marco Mastrobuono (Hour of Penance, Buffalo Grillz) ed il batterista Davide Billia (Beheaded), affiancati dal chitarrista Francesco Paoli(Fleshgod Apocalypse, ex Hour of Penance, ex Bloodtruth) e dal vocalist Frank Calleja(Beheaded).
La pubblicazione di "The Serpent Insignia" è a cura di Narcotica Promotion Publishing e la Time to Kill Records. La band debutta con una miscela esplosiva di old school death metal, rock'n'roll e punk.
L'album nasce anche grazie alla collaborazione con "S'illumina- SIAE" che ha supportato il progetto accrescendone il valore e dando possibilità alla neonata band di imporsi sul mercato nazionale e internazionale.
Il debut album è distribuito in Italia da Goodfellas mentre in Europa da ...
Guarda il video di "The 13th Apostle"
un il singolo che racchiude tutta la potenza e l'arroganza di questo progetto.
https://youtu.be/-MY9M3yPT-c
Ascolta il lyric video di "Red sky season"
https://youtu.be/wOSgtY5h_ZA
"The Serpent Insignia" sarà presentato con uno showcase esclusivo il
24 novembre 2018 presso il Defrag di Roma
e sarà headliner alla prima edizione dell'Undisputed Attitude Festival che si svolgerà
il 15 febbraio 2019 ad Amsterdam presso il Melkweg e
il 23 febbraio 2019 a Roma presso il Defrag.
"The Serpent Insignia" è pubblicato con il sostegno del MiBACT e di SIAE, nell'ambito dell'iniziativa "Sillumina – Copia privata per i giovani, per la cultura".
Giulio Moschini spiega così la nascita dei Coffin Birth:
"Un giorno con Marco Mastrobuono abbiamo iniziato a fare esperimenti con il leggendario pedale HM2, ottimo effetto per chitarra anni '80. Nel tentativo di aggiungere alcune nuove sfumature al tipico suono Hour of Penance; tuttavia, abbiamo scoperto che semplicemente non potevamo incorporare il suo suono nella musica a causa dell'enorme quantità di gain e di rumore che quel piccolo pedale è in grado di produrre. Siamo entrambi grandi fan di quel suono vintage e brutale così abbiamo iniziato a scrivere musica orientata in quella direzione. Inconsapevolmente e in breve tempo ci siamo ritrovati con 10 ottime canzoni pronte per essere registrate.
E' stato a questo punto che abbiamo deciso di trasformare l'esperimento in una vera e propria band. Era l'occasione giusta per fare musica con degli amici! La prima persona che abbiamo chiamato è stata il nostro caro amico Francesco Paoli (Fleshgod Apocalypse), che ha fatto parte della line-up degli Hour of Penance dal 2006 al 2010. Poco dopo abbiamo contattato Davide Billia e Frank Calleja dei Beheaded per completare la formazione dei Coffin Birth, della quale siamo ora estremamente felici".
Official Website
http://www.coffinbirthofficial.com/
https://www.facebook.com/coffinbirthofficial/
https://www.instagram.com/coffinbirth_official/
https://soundcloud.com/user-855812153
Narcotica
http://www.narcotica.it/
Time To Kill Records
http://www.timetokill-records.com
Inserita da:
Jerico
il 01.11.2018 - Letture:
941
Articoli Correlati
Interviste
Spiacenti!

Non sono disponibili Interviste correlate.
Live Reports
Spiacenti!

Non sono disponibili Live Reports correlati.
Concerti
Spiacenti!

Non sono disponibili concerti correlati.
Altre News di MetalWave