METAL BATTLE ITALY 2015: le band finaliste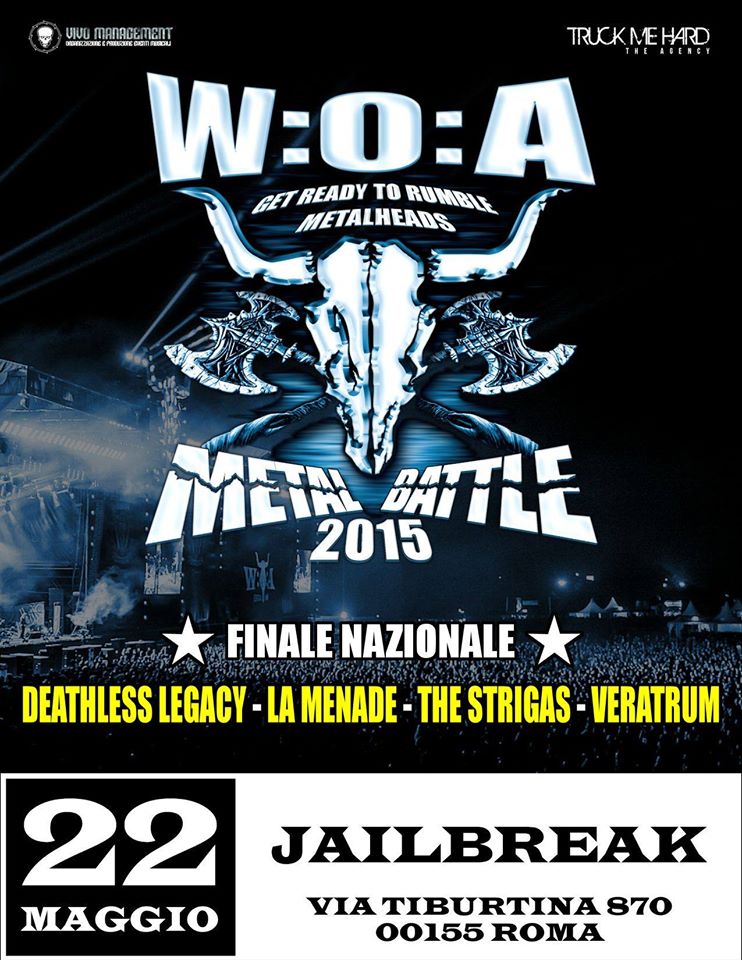 Venerdì 15 e Sabato 16 Maggio, rispettivamente a Torviscosa (UD) e Rozzano (MI), si sono tenute le semifinali dal vivo del prestigioso concorso per band Heavy Metal W:O:A Metal Battle Italy.
Da questi due eventi sono scaturite le quattro band che potranno accedere alla finale nazionale della gara e quindi affrontarsi in un ulteriore duello a suon di sferzate sonore.
Ecco i risultati delle semifinali, emersi dalle votazioni dei giurati presenti a ciascuna delle due serate.
SEMIFINALE 1
15 Maggio 2015 - Torviscosa (UD) – Eta Beta
1° classificata: DEATHLESS LEGACY – punti 77
2° classificata: LA MENADE – punti 67
3° classificata: EX-TRIM – punti 57
4° classificata: ETHERNA – punti N.C. (Ritiratisi dal concorso)
SEMIFINALE 2
16 Maggio 2015 - Rozzano (MI) – Circolo Svolta
1° classificata: THE STRIGAS – punti 64,5
2° classificata: VERATRUM – punti 63,5
3° classificata: MR. RIOT – punti 62
4° classificata: TURMA – punti 59
La FINALE NAZIONALE del concorso si svolgerà quindi tra le 4 band (due per ogni semifinali) che hanno ottenuto il punteggio maggiore, presso il locale e nel giorno designati come qui di seguito riportato:
------ FINALE NAZIONALE ------
Data: 22 Maggio 2015
Location: Jailbreak – Roma
Band in gara: DEATHLESS LEGACY – LA MENADE – THE STRIGAS - VERATRUM
Tutti i gruppi finalisti verranno osservati e valutati da una Giuria del Metal Battle dal cui insindacabile giudizio emergerà una sola band la quale si aggiudicherà il titolo di "Italian Metal Battle Winner" e avrà il prestigioso compito di rappresentare la nostra Nazione direttamente sul palco del festival Heavy Metal più importante del mondo, il Wacken Open Air, in occasione della finale internazionale del concorso che vedrà sfidarsi tutte le band vincitrici delle oltre 30 nazioni del mondo che ospitano una branca del Metal Battle!
La serata sarà aperta al pubblico a partire dalle ore 20:00.
Per ulteriori informazioni:
http://www.facebook.com/MetalBattleItaly
Info Tel. - 333 6599784
E-mail: info@vivomanagement.it
Inserita da:
Jerico
il 18.05.2015 - Letture:
1867
Articoli Correlati
Altre News di MetalWave
Notizia Precedente
Notizia Successiva