METALWAVE ON-AIR: playlist del 25-09-2016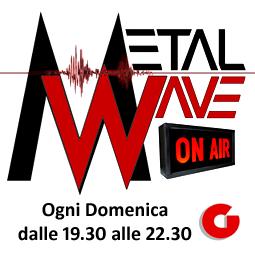 In studio: Jerico & Wolverine
01. Ozzy Osbourne :: Black Rain
02. Crowbar :: Fall While Rising
03. Testament :: Brotherhood of the Snake
04. Brujeria :: Plata O Plomo
05. Fair Warning :: One Step Closer
06. Hammerfall :: The Sacred Vow
07. Opeth :: The Wilde Flowers
08. Heaven Shall Burn :: Downshifter
09. Meshuggah :: Nostrum
10. In Flames :: The Chosen Pessimist
11. Epica :: Edge of the Blade
12. Novelists :: Voyager
13. T.O.M.B. - Abysmal Channeling
14. ATOA :: Du Lebst Nur Einmal
15. The Outlaws :: (Ghost) Riders in the Sky
16. Morbid Angel :: Lion's Den
--- METALWAVE ON-ITALY ---
17. Noise Pollution :: Breaking Down
18. Anewrage :: Ape's Legacy
19. Atlantic Tides :: Cara
20. Teodasia :: Stronger Than You
21. Burn After Me :: Chasm
22. Lithio :: #IoNO
23. Fake Idols :: Mad Fall
24. Noveria :: Shock
25. Adversor :: Abandoned in Hell ... Farewell!!!
26. Ural :: Party With the Wolves
27. Metallica :: Hardwired
28. Death :: Scavenger of Human Sorrow
29. Nuclear Assault :: Search And Seizure
30. Pain :: A Wannabe
31. Alter Bridge :: My Champion
32. Witchcraft :: The Outcast
33. Sabaton :: Shiroyama
Ascolta la puntata in diretta streaming da
http://www.radiogalileo.it/programmi/lista-programmi/metal-wave
METALWAVE ON-AIR, in onda ogni DOMENICA dalle 19:30 alle 22:30 sulle frequenze di RADIO GALILEO - (Terni), é un programma radiofonico curato da Jerico, in collaborazione con Alcio, Demone e Wolverine, e con la partecipazione di tutto lo staff di METALWAVE.
METALWAVE ON-AIR può essere ascoltato anche in diretta streaming internet, grazie al server di Radio Galileo. Per poter ascoltare la trasmissione in streaming è sufficiente andare a questa pagina:
http://www.radiogalileo.it/
Per interagire con noi, durante il programma, potete usare i seguenti metodi:
Tel: 0744.402501
SMS BOX: 327.0654271
STREAMING:
http://www.radiogalileo.it/
CHAT:
https://www.metalwave.it/chat.htm
E-MAIL: radio@metalwave.it
FACEBOOK:
http://www.facebook.com/metalwaveonair
Inserita da:
Jerico
il 25.09.2016 - Letture:
1933
Articoli Correlati
Interviste
Spiacenti!

Non sono disponibili Interviste correlate.
Live Reports
Spiacenti!

Non sono disponibili Live Reports correlati.
Concerti
Spiacenti!

Non sono disponibili concerti correlati.
Altre News di MetalWave
Notizia Precedente
Notizia Successiva