Mandragora Scream «Nothing But The Best» (2021)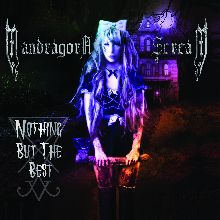 Autore:
Wolverine

»
Recensione Pubblicata il:
06.10.2021
Visualizzazioni:
512
Band:
Mandragora Scream



Titolo:
Nothing But The Best
Nazione:
Italia
Formazione:
- Terry Horn :: Guitars; composer;
- Morgan Lacroix :: Singer;
Genere:
Goth/Industrial Metal
Durata:
1h 15' 16"
Formato:
CD
Recensione
Per celebrare i vent'anni di onorata carriera, i Mandragola Scream rilasciano una raccolta intitolata "Nothing But The Best" in cui sono racchiusi ben 17 brani frutto dei maggiori successi del duo nazionale nell'ambito del goth industrial metal. Nel Corso del ventennio la band Toscana ha saputo farsi apprezzare e notare sia nel panorama nazionale che internazionale a fianco di band quali Cradle Of Filth, The 69 Eyes, Mortiis e Christian Death riscuotendo un enorme successo. Fondamentalmente il duo composto dalla splendida e sexy Morgan Lacroix e dallo strumentista Terry Horn hanno saputo ben omaggiare la platea celebrando l'evento con questa raccolta contenente un opuscolo di otto pagine con foto del duo oltre a brani mai apparsi sui cinque full lenght già prodotti come "Jeanne D'Arc" e "Spiritual Leadin" e l'aggiunta di 3 inediti quali "The Devils Owns My Heart", "In the Dark" e "Baby Blue" che anticipano in sostanza l'album di inediti che vedrà la luce alla fine del prossimo anno 2022. Inutile soffermarsi sulla disamina e sui contenuti di questo lavoro che, nella classica atmosfera dark e mistica a cui siamo stati abituati da sempre, per i più esperti rappresenterà un'ottima uscita da aggiungere alla propria collezione mentre, per i meno esperti, una vera rassegna che vedrà l'evolversi della band dagli esordi ad oggi offrendo emozioni che, in generi come questo, nel panorama italiano riescono veramente in pochi. Rimaniamo quindi in attesa del prossimo album di inediti e godiamoci nel frattempo questa incredibile raccolta.
Track by Track
Nightwish

S.V.

Jeanne D'Arc

75

The Time Of Spells

S.V.

Cryin' Clouds

S.V.

Rainbow Seeker

S.V.

Dark Lantern

S.V.

Ghost Of Swan

S.V.

Blight Thrills

S.V.

The Circus

S.V.

Breaking Down

S.V.

Lamia

S.V.

Hekate en Erebos Phos

S.V.

Medusa

S.V.

The Devils owns my heart

75

In The Dark

80

Blue Baby

75

Spiritual Leading

75
Giudizio Confezione
Qualità Audio:

75

Qualità Artwork:

80

Originalità:

75

Tecnica:

75
Recensione di
Wolverine

»
pubblicata il 06.10.2021. Articolo letto
512
volte.
Articoli Correlati
Interviste
Spiacenti!

Non sono disponibili Interviste correlate.
Live Reports
Spiacenti!

Non sono disponibili Live Reports correlati.
Concerti
Spiacenti!

Non sono disponibili concerti correlati.