Hour of Penance «Misotheism» (2019)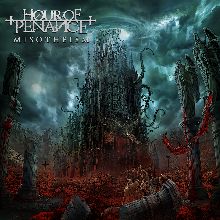 Autore:
Wolverine

»
Recensione Pubblicata il:
08.12.2019
Visualizzazioni:
386
Band:
Hour of Penance


Titolo:
Misotheism
Nazione:
Italia
Formazione:
- Giulio Moschini :: guitars;
- Paolo Pieri :: guitars and vocals;
- Marco Mastrobuono :: bass;
- Davide Billia :: drums;
Genere:
Death Metal
Durata:
41' 12"
Formato:
CD
Recensione
Da vent'anni sulla scena underground nazionale, i death metal capitolini Hour Of Penance rilasciano l'ennesima onnipotenza chiamata "Misotheism", forse rispetto al passato maggiorata negli assetti melodici, ma indubbiamente di potenza superlativa se si tiene conto della portata dei riff e della violentissima ritmica decisiva a scalfire ogni minimo dubbio di che livello anche tecnico abbia la band. L'assetto ritmico ricorda Nile, Morbid Angel ma anche Dynig Fetus e via discorrendo con un tecnicismo che non rimpiange le band appena pronunciate. Alcuni brani, pur essendo di notevole livello tendono a ridurre appena la portata ritmica per offrire al meglio i melodici che indubbiamente rilasciano un'atmosfera particolare ed attraente. Ciò che in ogni caso va evidenziato è passione che emerge dal disco, a cominciare dal primo effettivo "Blight And Conquer" dove un riff iniziale viene poi assorbito dall'incredibile vortice ritmico compatto e diretto come un macigno; pari sorte per "Fallen From Ivory Towers" altra muraglia sonora tra velocità e tecnica; un susseguirsi inarrestabile di riff e intrecci tra chitarre caratterizzano anche le successive "The Second Babel", "Lamb Of The Sevent Signs" e "Flames Of Merciless" mentre "Sovereign Nation" ha un assetto ritmico particolare quasi una sensazione di mid tempo ma la doppia cassa fa indubbiamente magie…; è poi la volta di "Dura Lex Sed Lex" e "Iudex", quest'ultimo un brano particolarmente melodico anche per i virtuosissimi lead; conclude "Occult Den Of Snake" un brano particolarmente oscuro che non perde comunque i tratti che caratterizzano lo stile della band. Misotheism è un album dai contenuti maledettamente estremi e fluidi, pura violenza e ritmiche serrate che non lascia spazio a mezze misure ma travolge e trascina nel vortice esplosivo che caratterizza al meglio tutta la forza della band.
Track by Track
Mass Crucifixion Of Kings

S.V.

Blight And Conquer

80

Fallen From Ivory Towers

80

The Second Babel

85

Lamb Of The Seven Sins

85

Flames Of Merciless Gods

80

Sovereign Nation

80

Dura Lex Sed Lex

80

Iudex

80

Occult Den Of Snakes

85
Giudizio Confezione
Qualità Audio:

80

Qualità Artwork:

85

Originalità:

75

Tecnica:

85
Recensione di
Wolverine

»
pubblicata il 08.12.2019. Articolo letto
386
volte.
Articoli Correlati
Interviste
Spiacenti!

Non sono disponibili Interviste correlate.
Live Reports
Spiacenti!

Non sono disponibili Live Reports correlati.