Rhapsody of Fire «Legendary Years» (2017)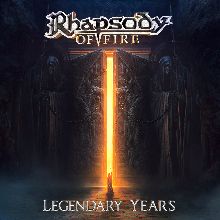 Autore:
reira

»
Recensione Pubblicata il:
25.05.2017
Visualizzazioni:
2292
Band:
Rhapsody of Fire




Titolo:
Legendary Years
Nazione:
Italia
Formazione:
Giacomo Voli - Vocals
Alex Staropoli - Keyboards
Roby De Micheli - Guitars
Alessandro Sala - Bass
Manu Lotter - Drums
Genere:
Symphonic Power Metal
Durata:
1h 14' 54"
Formato:
CD
Recensione
Un nuovo pezzo di storia viene scritto per i grandiosi Rhapsody of Fire, band che può piacere o meno, ma di cui il talento non si può mettere in discussione.
Alla voce troviamo il "novello" Giacomo Voli, il quale ha ricoperto egregiamente il suo ruolo senza, a mio parere, portare rimpianti sul passato.
Nonostante i vent'anni portati sulle spalle, i nostri cari Rhapsody of Fire con questo maestoso Legend Years ci fanno assaporare ancora una volta lo stile che li ha resi famosi.
Più di un'ora di disco, quattordici tracce e tanta carica.
Ho letto vari commenti in merito a questo lavoro, c'è chi addirittura sostiene che i RoF somiglino a una cover band.
Ovviamente non condivido per niente opinioni simili.
Qua parliamo di un gruppo che, negli anni, ha trovato il suo stile e lo mantiene perché lo sa fare bene.
La fatica che si fa a comporre melodie complesse come quelle contenute in Legendary Years è palpabile, la bravura dei musicisti, la voglia di fare e cantare senza strafare...
Gli ingredienti per apprezzare i Rhapsody of Fire ci sono tutti.
Ovviamente, non aspettiamoci delle svolte artistiche o di genere, ma questo lo do per scontato.
Posso solo dirvi che un disco simile non me lo farei mai scappare perché è una delle poche certezze che abbiamo relativo al panorama della musica Metal italiana.
Track by Track
Dawn of Victory

90

Knightrider of doom

90

Flames of revenge

90

Beyond the gates of infinity

90

Land of immortals

90

Emerald sword

90

Legendary tales

90

Dargor Shadowlord of the black mountain

90

When demons awake

90

Wings of destiny

90

Riding the wings of eternity

90

The dark tower of Abyss

90

Holy Thunderforce

90

Rain of a thousand flames

90
Giudizio Confezione
Qualità Audio:

90

Qualità Artwork:

80

Originalità:

70

Tecnica:

90
Recensione di
reira

»
pubblicata il 25.05.2017. Articolo letto
2292
volte.
Articoli Correlati
Live Reports
Spiacenti!

Non sono disponibili Live Reports correlati.
Concerti
Spiacenti!

Non sono disponibili concerti correlati.