FLASHBACK OF ANGER: tutto sul nuovo album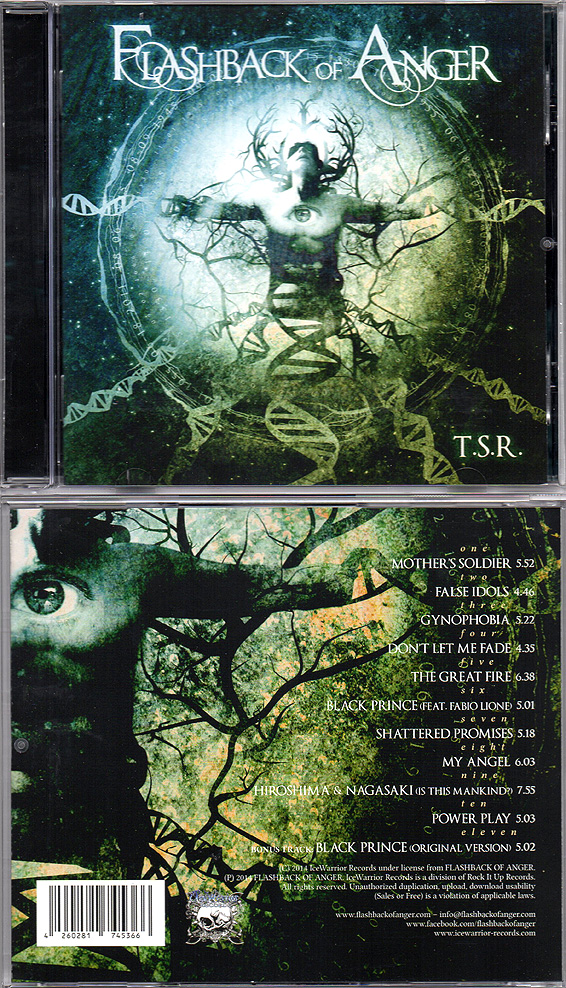 Si intitolerà "Terminate And Stay Resident (T.S.R.)" il prossimo album dei Flashback Of Anger, in uscita il 29 agosto per IceWarrior Records.
A cinque anni di distanza dalla loro ultima fatica in studio, la band si è affidata all'artista Gustavo Sazes per la realizzazione dell'artwork (già noto per aver collaborato con Firewind, Angra, Kamelot...) e ci sarà la partecipazione speciale di Fabio Lione alla voce sul pezzo "Black Prince".
Inoltre, la prima stampa dell'album vedrà un'edizione speciale che comprenderà due versioni di "Black Prince": la prima con Fabio Lione, la seconda in versione originale.
La line-up della band comprende:
Alessio Gori – Voce
Giulio Cercato – Chitarra
Antonio Sigismondi – Batteria
Emanuele Giorgetti – Tastiere
Gianmarco Lotti – Chitarra
Andrea "Tower" Torricini – Basso
Tracklist e cover del disco:
1. Mother's Soldier
2. False Idols
3. Gynophobia
4. Don't Let Me Fade
5. The Great Fire
6. Black Prince (feat. Fabio Lione on Vocals)
7. Shattered Promises
8. My Angel
9. Hiroshima & Nagasaki
10. Power Play
11. Bonus Track : Black Prince (Original version)
Nel video è possibile ascoltare in anteprim il pezzo "False Idols".
Inserita da:
HeavyGabry
il 05.07.2014 - Letture:
1377
Articoli Correlati
Live Reports
Spiacenti!

Non sono disponibili Live Reports correlati.
Concerti
Spiacenti!

Non sono disponibili concerti correlati.
Altre News di MetalWave
Notizia Precedente
Notizia Successiva