METALITALIA.COM FESTIVAL 2023: presenta METALITALIA INK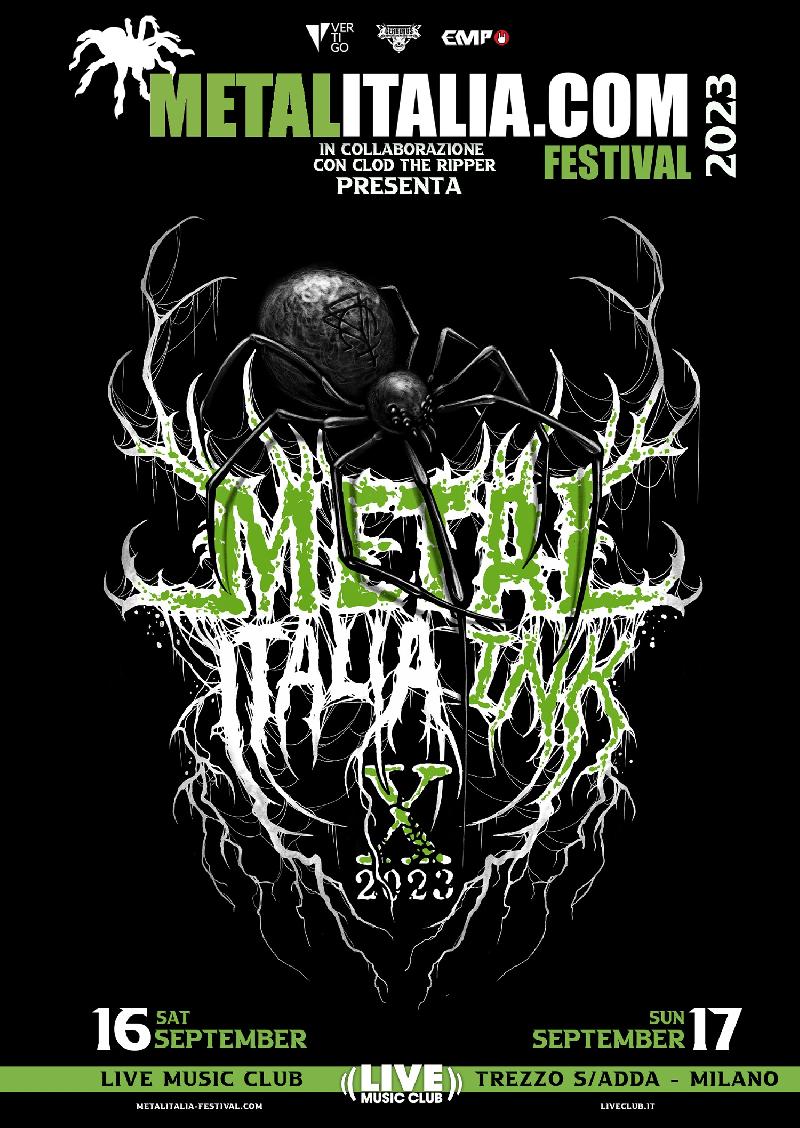 Il Metalitalia.com Festival, in occasione della sua decima edizione, unisce le forze con l'iconico tatuatore e frontman dei BLASPHEMER, Clod the Ripper, per dar vita al primo evento in Italia che fonde l'arte del tatuaggio alla musica metal! Sabato 16 e Domenica 17 Settembre al Live Music Club di Trezzo sull'Adda (MI) i tatuatori di fama internazionale Clod the Ripper, Giancarlo Capra, Vlad of Thelema, Welt, Alessandro Manomorta e Lorenzo Colore, saranno presenti con i loro stand, la loro creatività e la loro rinomata maestria. Che siate appassionati di metal o amanti della body art, questa è un'occasione imperdibile per unire le vostre due passioni, portando per sempre il ricordo di un'edizione che sicuramente rimarrà alla storia. Di seguito i link ai canali ufficiali dei tatuatori:
Clod The Ripper
Welt Yama Tattoo
Giancarlo Capra
Vlad of Thelema
Alessandro Manomorta
Lorenzo Colore
L'artwork è stato creato creato da Clod.
Metalitalia.com Festival 2023
Live Music Club – Trezzo sull'Adda (MI)
Day 1 – sabato 16 settembre 2023
VENOM
UNLEASHED
PAUL Di'ANNO (Iron Maiden setlist)
PESTILENCE (special old school show)
MALEVOLENT CREATION
WITCHMASTER
WHISKEY RITUAL
MISCREANCE
Day 2 – domenica 17 Settembre 2023
FOLKSTONE
FEUERSCHWANZ
WIND ROSE
FUROR GALLICO
DIABULA RASA
KANSEIL
DRACONICON
BIGLIETTI
Giornata Singola del 16 settembre: in prevendita 42€ + d.p. | alla cassa 50€
Giornata Singola del 17 settembre: SOLD OUT
Abbonamento 2 giorni: SOLD OUT
Acquista qui:
http://www.metalitalia-festival.com/biglietti
Evento Facebook Clicca QUI
Info:
METALITALIA FESTIVAL
http://www.metalitalia-festival.com
http://www.facebook.com/Metalitalia.comFestival
METALITALIA
http://www.metalitalia.com
LIVE CLUB
http://www.liveclub.it
SUPPORTED BY:
EMP Mailorder
http://www.emp-online.it
Inserita da:
Jerico
il 27.07.2023 - Letture:
215
Articoli Correlati
Altre News di MetalWave
Notizia Precedente
Notizia Successiva