DEATH THE SUNDAY FEST: i dettagli dell'evento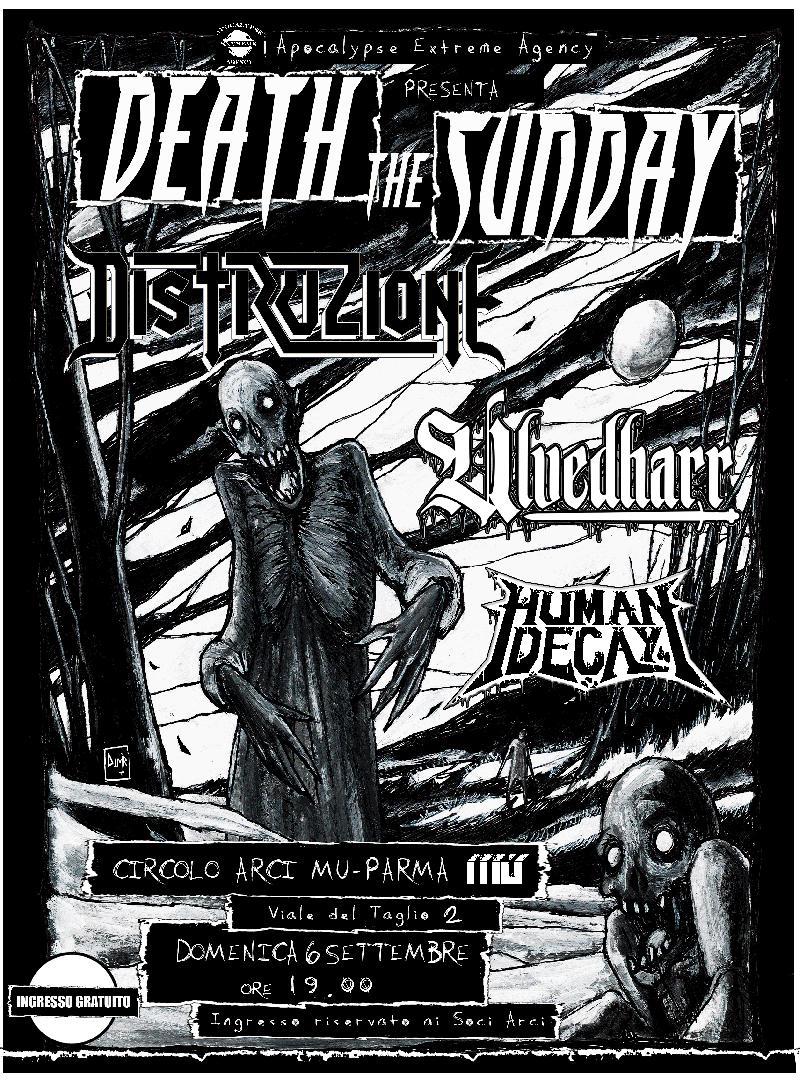 E' tutto pronto per DEATH THE SUNDAY FEST, previsto per domenica 6 settembre presso il Circolo Mu di Parma, ad ingresso gratuito.
HUMAN DECAY, ULVEDHARR e DISTRUZIONE, saranno i protagonisti di questa giornata all'insegna del death metal.
Di seguito i dettagli della giornata:
19:00- Apertura porte
20:15- Human Decay
21:10- Ulvedharr
22:10- Distruzione
La Location è provvista di ampio parcheggio gratuito, inoltre potrete gustare ottimo cibo con cucina selezionata, vastissima scelta di birre, cocktails e altro ancora.
DOMENICA 6 SETTEMBRE 2020
DEATH THE SUNDAY FEST
con:
-DISTRUZIONE
-ULVEDHARR
-HUMAN DECAY
Presso:
Circolo Arci Mu
Strada del Taglio 2
Parma (PR)
Apertura cancelli ore 19:00
Inizio concerti ore 20:15
Fine concerti ore 23:00
Evento Facebook:
https://www.facebook.com/events/648361612705122
INGRESSO GRATUITO
Riservato ai soci Arci
L'evento si svolgerà nel rispetto delle normative vigenti per il contenimento dell'emergenza Covid-19, per cui l'ingresso al locale sarà limitato al numero di posti a sedere disponibili in platea.
PRENOTAZIONE ALTAMENTE CONSIGLIATA: prenota il tuo posto attraverso la pagina facebook ufficiale del Circolo MU, cliccando QUI:
https://www.facebook.com/mu.parma/
Info:
http://www.apocalypseextremeagency.com
http://www.facebook.com/mu.parma
Inserita da:
Jerico
il 01.09.2020 - Letture:
461
Articoli Correlati
Altre News di MetalWave