STIGE FEST II: il bill completo del festival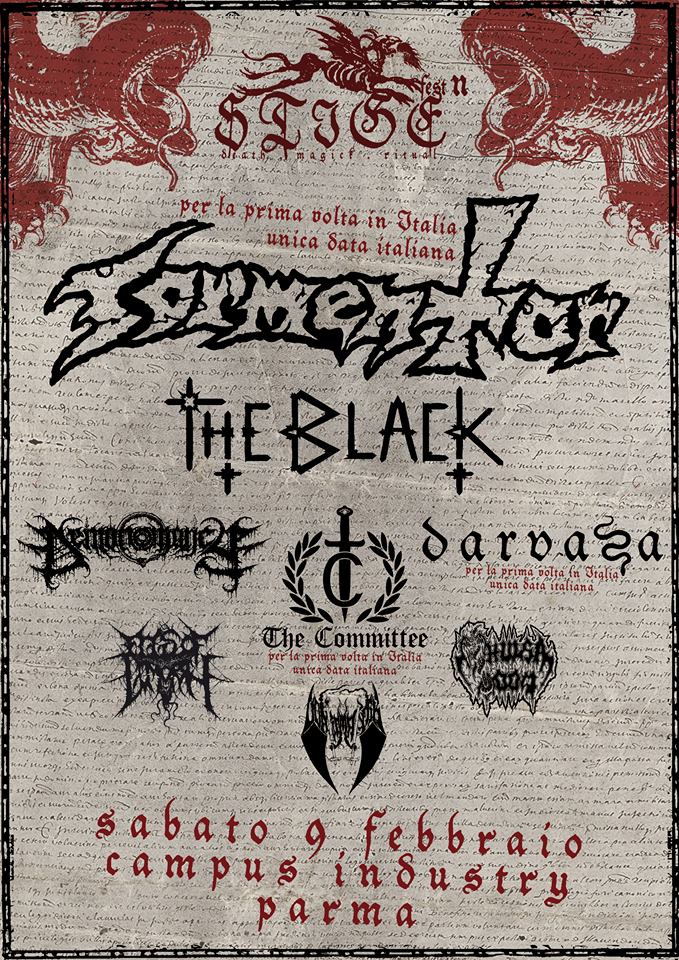 E' con immenso piacere che possiamo annunciare il bill completo dello STIGE FEST II - Death Magick Ritual, che si terrà sabato 9 Febbraio al Campus Industry Music di Parma. Ad Accompagnare i già annunciati headliner TORMENTOR, ci saranno THE COMMITEE, con il loro black metal atmosferico ed affascinante, per la prima ed unica data nel nostro paese, in esclusiva per lo Stige. Un'altra importante conferma sono THE BLACK, uno dei mostri sacri del panorama underground italiano, che dagli anni '80 ad oggi è riuscito a tenere alta nel mondo la bandiera dell'Heavy Metal e del Doom tricolore.
Per la prima volta in Italia, i DARVAZA terranno il loro primo e unico show, e sarà l'unica occasione per vedere il combo in azione.
Le altre bands confermate, che andranno a completare il bill del festival sono DEMONOMANCY, EGGS OF GOMORRH, THULSA DOOM e i
VOMITMANTIK, per la prima volta dal vivo.
Area Food, Area Merchandise, Metal Market presenti.
SABATO 9 FEBBRAIO
STIGE FEST II: Death Magick Ritual
Con:
TORMENTOR (H)- prima volta in italia / unica data italiana
THE COMMITTEE (International)- prima volta in italia / unica data italiana
THE BLACK (IT) Heavy-Doom kult dal 1988
DEMONOMANCY (IT)
DARVAZA (NOR/IT) - prima volta in italia / unica data italiana
EGGS OF GOMORRH (CH)
THULSA DOOM (IT)
VOMITMANTIK (IT) - Prima apparizione live
Presso:
Campus Industry Music
Largo Simonini
Parma (PR)
Evento Facebook:
https://www.facebook.com/events/624823644642088/
BIGLIETTI:
35,00 euro + diritti di prevendita su Ciaoticket cliccando QUI:
https://www.ciaotickets.com/evento/stige-fest-ii-tormentor-parma
38,00 alla porta
Durante la giornata sarà possibile entrare ed uscire da locale senza limiti di orario.
INFO:
LO-FI CREATURES EVENTS
http://www.facebook.com/loficreatures/
APOCALYPSE EXTREME AGENCY
http://www.apocalypseextremeagency.com
TORMENTING STEEL PRODUCTIONS
http://www.facebook.com/tormentingsteelproductions/
CAMPUS INDUSTRY MUSIC
http://www.campusindustrymusic.com
Inserita da:
Jerico
il 11.01.2019 - Letture:
634
Articoli Correlati
Altre News di MetalWave