NANOWAR OF STEEL: Giorgio Mastrota sul palco a Lucca Comics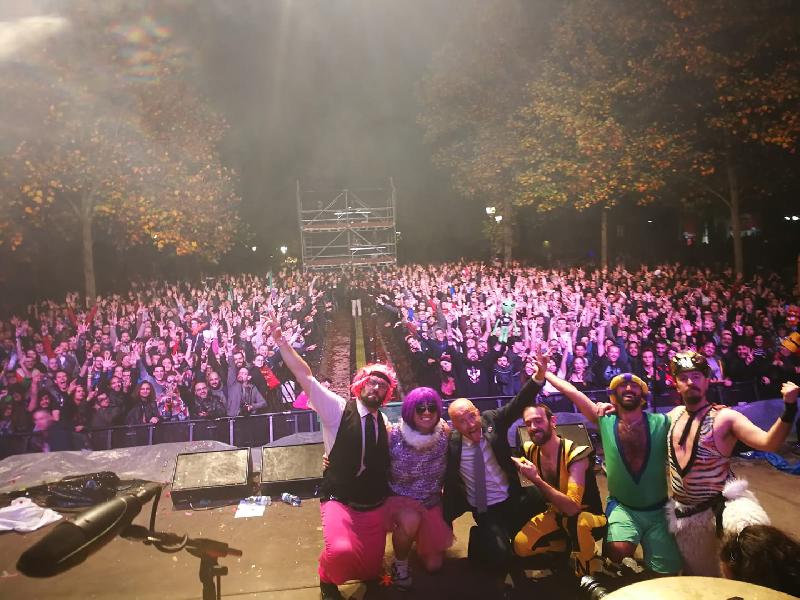 E' successo.
L'evento più atteso dai fan dei Nanowar Of Steel si é concretizzato nella sera di Halloween sul main stage Lucca Comics & Games.
Sul finire della perfomance della band, che precedeva quella dei Lacuna Coil, il Custode dell'Acciaio Inox 18/10 Giorgio Mastrota é salito sul palco nelle vesti di Imperatore di Feudalesimo e Libertà, per poi rivelare la propria identità sull'attacco di batteria del brano a lui dedicato, ormai prossimo alle 2.500.000 views sul canale YouTube. Video Ufficiale:
http://it.youtube.com/watch?v=aOQBpCzUyuk
La band ha presentato il nuovo 'Stairway To Valhalla', in uscita il prossimo 9 Novembre e prodotto da Alessandro Del Vecchio.
L'album é anticipato dai videoclip di:
Nanowar Of Steel - Barbie MILF
https://www.youtube.com/watch?v=gX_TxKa0dCY
Princess Of The Twilight [feat. Fabio Lione]
Nanowar Of Steel - The Call Of Cthulhu
https://www.youtube.com/watch?v=WPUJG2jTw9s&t=33s
Il 'Valhtour' prosegue con le seguenti tappe:
17 Nov @ LARGO VENUE, Roma
24 Nov @ LEGEND CLUB, Milano
01 Dic @ FABRIK, Cagliari
14 Dic @ ALCHEMICA, Bologna
15 Dic @ REVOLVER MUSIC HALL, San Donà di Piave (VE)
22 Dic @ EXENZIA LIVE CLUB, Prato
In attesa dei video della rete ecco una foto al termine dello show.
http://www.nanowar.net
//
http://www.facebook.com/nanowarofsteel
Inserita da:
Jerico
il 02.11.2018 - Letture:
475
Articoli Correlati
Interviste
Spiacenti!

Non sono disponibili Interviste correlate.
Live Reports
Spiacenti!

Non sono disponibili Live Reports correlati.
Concerti
Spiacenti!

Non sono disponibili concerti correlati.
Altre News di MetalWave