ZU: tornano live per la prima volta in Toscana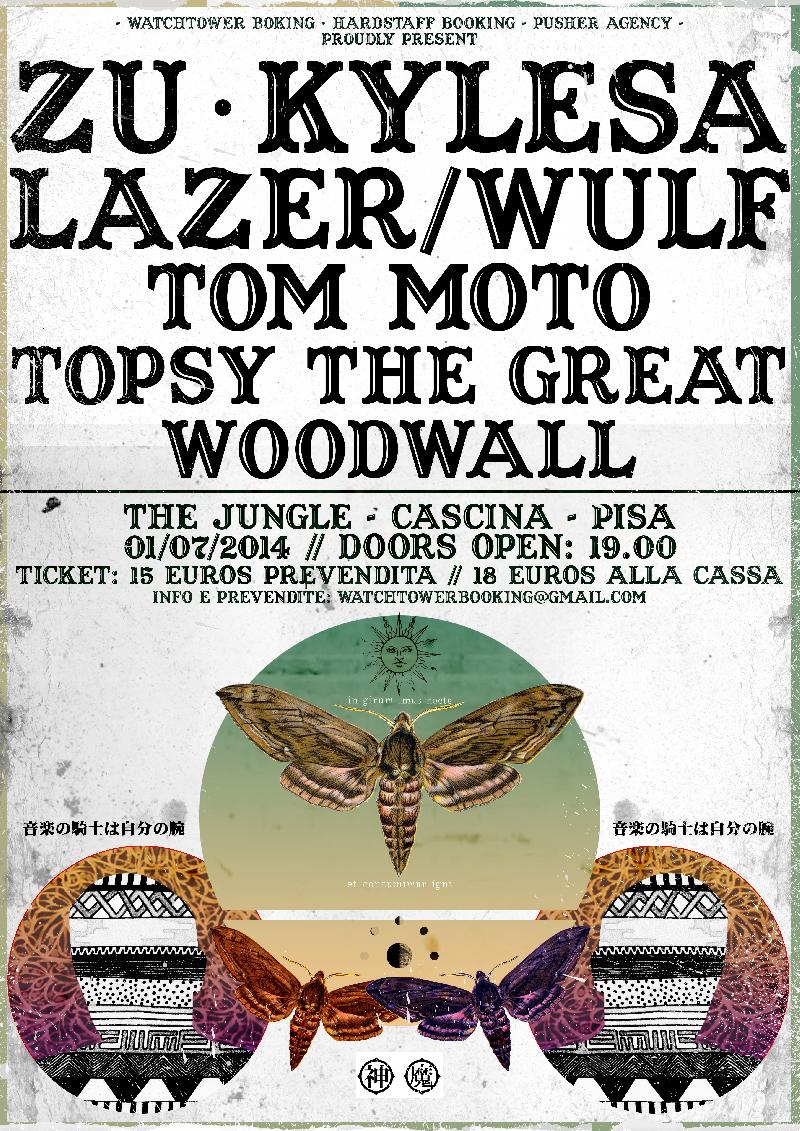 WatchTower Booking&Events & Hardstaff Booking Agency
in collaborazione con The Jungle & Pusher Agency
presentano
ZU (ITA - La Tempesta Dischi / Ipecac Records)
A 5 anni dall'uscita del loro ultimo full lenght "Carboniferous", gli ZU tornano live per la prima volta in Toscana con il nuovo EP "Goodnight, Civilization", appena uscito per Tempesta Dischi, e con il nuovo batterista Gabe Serbian, direttamente dagli americani The Locust.
Insieme a loro, coheadliner della serata, ci saranno i KYLESA da Savannah, Georgia, tra i nomi più importanti del panorama sludge metal odierno. Tra Giugno e Luglio saranno in tour in Europa per promuovere la lora ultima uscita su Season of Mist "Ultraviolet", accompagnati dai loro concittadini, LAZER/WULF, su Retro Futurist Records.
Dalle 19 sul palco del The Jungle saliranno WOODWALL, TOPSY THE GREAT e TOM MOTO, tre band toscane da tenere d'occhio.
http://it.wikipedia.org/wiki/Zu_(gruppo_musicale
)
https://www.facebook.com/vajrazu
+
KYLESA (USA)
http://www.kylesa.com/
http://en.wikipedia.org/wiki/Kylesa
+
Lazer/Wulf (USA)
http://lazerwulf.com/
http://lazerwulf.bandcamp.com/
+
Tom Moto (ITA)
http://tommoto.bandcamp.com/
+
Topsy The Great (ITA)
http://topsythegreat.bandcamp.com/
http://youtu.be/FsTiswUbX4A
+
Woodwall (ITA)
http://woodwall.bandcamp.com/
--------------------------------------------------------------------
► TICKET : 15 € in prevendita // 18 € in cassa
INFO PREVENDITE – watchtowerbooking@gmail.com
► ORARI
Apertura Cassa – 18.30
Apertura Cancelli – 18.45
Woodwall – 19.00
Topsy The Great – 19.40
Tom Moto – 20.20
Lazer/Wulf – 21.00
Kylesa – 21.45
ZU – 23.00
► INFO :
http://watchtowerbooking.wordpress.com/
http://www.facebook.com/events/1428255814092713
http://www.facebook.com/thejunglecascina
http://www.facebook.com/watchtower.bookingevents
watchtowerbooking@gmail.com
+39 349 8091456
Inserita da:
Jerico
il 28.06.2014 - Letture:
1082
Articoli Correlati
Altre News di MetalWave