SCREAMACHINE: disponibile il video di "Demondome" e svelata release date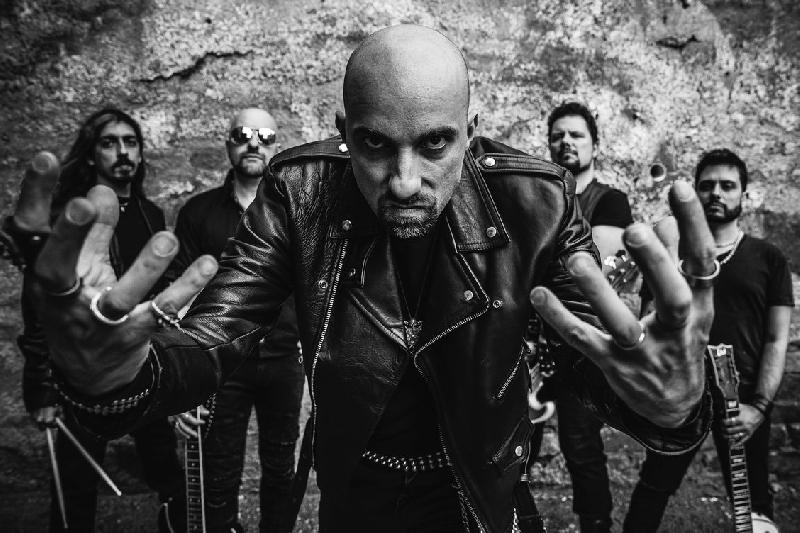 ScreaMachine, la heavy metal band romana che comprende musicisti provenienti da Stormlord, Kaledon, Airlines Of Terror ed ex Lunarsea, è orgogliosa di annunciare la pubblicazione del videoclip e singolo, intitolato "Demondome", tratto dall'album di debutto che sarà pubblicato da Frontiers Music Srl il 9 aprile 2021.
Il video, diretto da Kinorama Studio, è disponibile questo link:
https://youtu.be/OcV3X_t78lE
E' possibile preordinare il CD ed il merchandising "ScreaMachine" qui:
https://screamachine.bandcamp.com/
Nati da un idea di Francesco Bucci, bassista e songwriter della extreme epic metal band Stormlord, gli ScreaMachine riuniscono cinque musicisti, attivi da anni nella scena italiana in realtà come Kaledon, Lunarsea, Airlines of Terror, decisi a fondere il classico heavy metal sound reso immortale da Maestri del calibro di Judas Priest, Metallica, Iced Earth, Savatage ed Accept con un songwriting ed una produzione moderna e dinamica.
Gli ScreaMachine hanno potuto contare sul contributo di alcuni amici decisamente talentuosi per pagare il giusto tributo agli Dei del Metal: la leggenda del basso fretless Steve Di Giorgio (Testament, Death, Iced Earth, Spirits Of Fire, etc.) ed il grintoso singer Herbie Langhans (Firewind, Avantasia, Sonic Haven), infatti, hanno marchiato a fuoco l'epico inno "Wisdom Of The Ages" con la loro performance, mentre quattro dei migliori guitar hero italiani, Simone Mularoni (DGM), Massimiliano Pagliuso (Novembre, Oceana), Andrea Angelini (Stormlord), and Francesco Mattei (Noveria), arricchiscono altrettanti brani con assoli dallo stile funambolico ed inimitabile!
Il disco, registrato, mixato e masterizzato dal chitarrista Paolo Campitelli (già dietro il banco mixer per Kaledon, Kalidia, Even Flow) ai Warlord Sound Studios, presenterà un fiammeggiante artwork curato da Gustavo Sazes, conosciuto per il suo lavoro con Machine Head, Angra, Arche Enemy, Steve Harris's British Lion, Firewind, e molti altri.
Come join the cult of the Scream!
Tracklist:
1. Demondome (ft. Francesco Mattei)
2. The Metal Monster
3. The Human God (ft. Simone Mularoni)
4. Darksteel (ft. Massimiliano Pagliuso)
5. Mistress Of Disaster
6. 52Hz
7. Wisdom Of The Ages (ft. Steve Di Giorgio e Herbie Langhans)
8. Silver Fever
9. Dancing With Shadows (ft. Andrea Angelini)
10. Scream Machine
Line-up:
Valerio "The Brave" Caricchio - Lead Vocals
Francesco Bucci - Bass
Alex Mele - Rhythm/Lead Guitars
Paolo Campitelli - Rhythm/Lead Guitars
Alfonso "Fo" Corace - Drums
Official website:
https://www.screamachineband.com
Facebook:
https://www.facebook.com/screamachineofficial
Instagram:
https://www.instagram.com/screamachineofficial
Youtube:
https://bit.ly/screaMachine
Inserita da:
Jerico
il 03.02.2021 - Letture:
644
Articoli Correlati
Interviste
Spiacenti!

Non sono disponibili Interviste correlate.
Live Reports
Spiacenti!

Non sono disponibili Live Reports correlati.
Altre News di MetalWave
Notizia Precedente
Notizia Successiva