SIX FEET TALL: pubblicano il video di ''Fear Enough''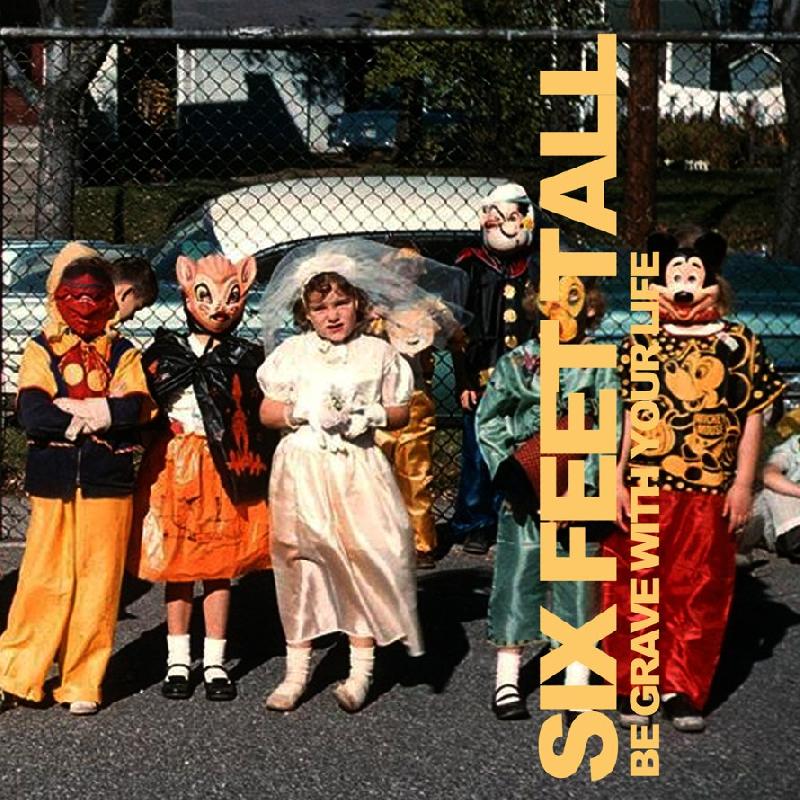 La noise rock/post hardcore band SIX FEET TALL presenta oggi il video del nuovo singolo "Fear Enough". Guardalo QUI:
https://www.youtube.com/watch?v=VcjYns87cr4
Il brano è estratto dall'acclamato nuovo EP "Be Grave With Your Life", recentemente presentato in esclusiva per Idioteq e Salad Days.
"Be Grave With Your Life" è uscito il 12 giugno 2020 su Mothership Records e distribuito da Audioglobe/To Lose La Track.
Il video del singolo "Regaining Soil" è stato presentato in esclusiva su Everything Is Noise! Guarda il video QUI!
https://everythingisnoise.net/premieres/six-feet-tall-reflect-on-a-chaotic-world-with-regaining-soil/
Il video del primo singolo "Do/Don't" è sempre disponibile QUI.
https://www.youtube.com/watch?v=cKn0cZAkGks
I SIX FEET TALL fanno base a Perugia ed esordiscono nel 2016 con un EP di debutto per UA' Records. Girano in lungo e in largo in Italia e fanno un tour in Gran Bretagna nel 2017. Nel 2019 aggiungono un elemento alla formazione, che ora comprende Michele Perla degli eclettici Die Abete alla chitarra, Andrea Gentili e Federico Mazzoli dei monolitici Northwoods, rispettivamente alla batteria e al basso, Diego Coletti, già cantante nei punk rocker Cayman the Animal, alla chitarra e alla voce.
"Be Grave with Your Life" è stato registrato a cavallo tra il 2019 e il 2020 tra Roma (Cinque Quarti Studio con Lorenzo Amato) e Perugia (HD studio con Alberto Travetti, dove sono state incise le tracce vocali) ed esprime bene il livello di maturità e personalità raggiunti dal gruppo. Lo stile vario e particolare del disco attinge dalle fonti più disparate (noise rock, post hardcore di stampo Dischord, punk rock e chili di riff quasi metallici) e si avvale del mixaggio di Dave Curran dei newyorchesi UNSANE presso il Trai Studio (MI) e del mastering di Claudio Adamo presso il Fonoprint Studio di Bologna.
Tutto il lavoro gioca sul bilanciamento degli opposti: musicalmente è fresco e pesante, spigoloso e morbido nelle melodie; le liriche, dal sapore cupo e vagamente disorientante, si trovano spesso in bilico tra l'evocativo e il concreto, tra lo sconforto e la vitalità.
L'artwork è ad opera di Alessio Marchetti (Tutti I Colori Del Buio, Rope) e l'immaginario da cui attinge (infanzia decontestualizzata) incornicia bene le direttrici che muovono l'EP: la vita, la morte, le maschere viste come ruolo, le (false?) speranze.
*For fans of Whores, Mutoid Man, Jawbox, Coliseum.*
Tracklist:
1. Paleolithic Before Paleo Was Cool
2. Do/Don't
3. Regaining Soil
4. Hold My Mask
5. Still Waters Are Still Assholes
6. Fear Enough
SIX FEET TALL
https://www.facebook.com/Sixfeetfraidi/
https://sixfeettall666.bandcamp.com/releases
Mother Ship
https://www.facebook.com/mothershiprec
Inserita da:
Jerico
il 04.07.2020 - Letture:
741
Articoli Correlati
Interviste
Spiacenti!

Non sono disponibili Interviste correlate.
Live Reports
Spiacenti!

Non sono disponibili Live Reports correlati.
Concerti
Spiacenti!

Non sono disponibili concerti correlati.
Altre News di MetalWave