SUMMER IN HELL: pool party, orari e dettagli della festa di Ferragosto a Parma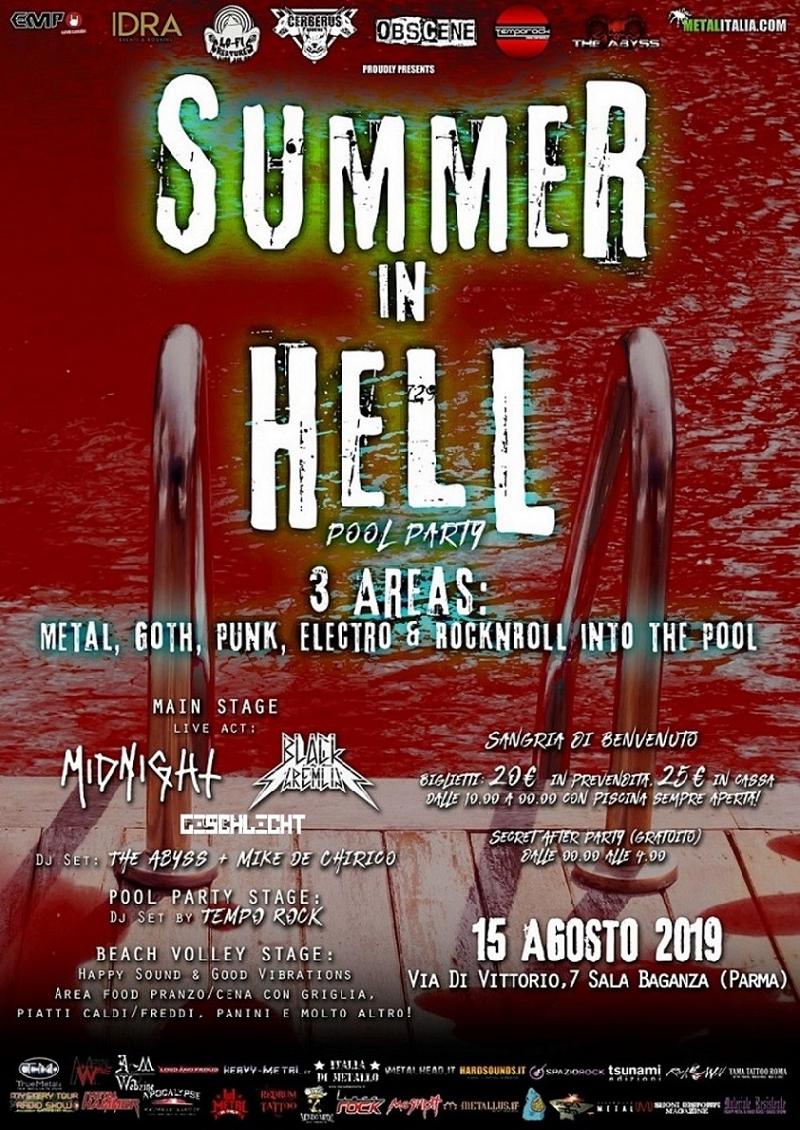 Si avvicina uno degli eventi più attesi di questa estate 2019: SUMMER IN HELL – pool party! La festa in piscina definitiva con musica dal vivo, ben 3 zone sound con Dj set per tutti i gusti dalla mattina fino a tarda serata, campo da beach volley, attività e giochi all'aperto, punto ristorazione/bar e molto altro ancora.
L'appuntamento è per il 15 Agosto 2019 presso il Joker Center by Eracle Sport di Sala Baganza (Parma)
Ecco gli orari della giornata:
LE ZONE SOUND:
Preparty - musica in diffusione: dalle 11:00 alle 15:00
Area TEMPO ROCK:15:00
Area THE ABYSS: 15:00
Area HAPPY SOUND: 15:00
I CONCERTI:
MDNIGHT: 23:00
BLACK GREMLIN: 22:00
GESCHLECHT: 21:15
First beer volley tournament: dalle 17:00 alle 20:00
AFTERPARTY
TEMPO ROCK, OBSCENE, THE ABYSS: dalle 00:00 - 04:00
Apertura Cancelli: 10:00
ARRIVO, LOCATION e CUCINA
All'arrivo verrò offerta ad ogni partecipante una rinfrescante sangria di benvenuto, mentre durante tutta la giornata sarà possibile bere e rifocillarsi nei punti ristoro delle piscine, le cucine saranno sempre aperte e le griglie sempre accese con anche opzioni vegan. Sarà anche possibile prendersi una pausa e rilassarsi nell'apposita area lounge.
La balneazione sarà consentita dall'apertura alla chiusura dei cancelli.
REGOLAMENTO BEER VOLLEY
Un innovativo e divertente torneo di beach volley, che prevede la birra come protagonista principale: squadre da 3 si sfideranno in un torneo senza esclusione di sorsi. Il regolamento è molto semplice: i partecipanti bevono una birra prima di cominciare, la prima squadra che finisce ha la prima palla. Chi vince passa al turno successivo, fino alla proclamazione del vincitore. Con ricchi premi per le prime 3 squadre classificate. L'iscrizione costa 15 euro a squadra.
AFTER PARTY
L'afterparty è a pochi minuti dalle piscine Joker Center, presso il Best di Felino (PR) e sarà gratuito per i partecipanti del Summer in Hell. Per chi volesse unirsi alla festa direttamente in nottata il prezzo di ingresso sarà di 10 euro.
Per concludere (o iniziare) la festa in bellezza l'After Party di Summer in Hell sarà dotato di due dancefloor: Rock/Metal ed Electro, gestiti dai dj di OBSCENE, THE ABYSS e TEMPOROCK, con una zona all'aperto ed una in-door.
15 agosto 2019
SUMMER IN HELL - pool party!
Piscina, Live Music, Disco, Giochi all'aperto, Grill, Food and Drinks
Joker Center by Eracle Sport- Via Di Vittorio, 7, Sala Baganza (Parma)
Dalle 10:00 alle 00:00
SUMMER IN HELL AFTER PARTY
Dalle 00:00 alle 4:00
Best - Via Casale 1 43035 Felino (PR)
Evento Facebook:
https://www.facebook.com/events/372076076827031/
BIGLIETTI
Il costo dei biglietti in prevendita è di 20€
Biglietto in cassa 25€
Aterparty: 10€/gratuito per i partecipanti al Summer in Hell
Pubbliche relazioni - infotcket
Daniel Rev 3314241169 / 3290193598
Tiziano +39 329 107 7840
Pilo 3403812556
Inserita da:
Jerico
il 09.08.2019 - Letture:
969
Articoli Correlati
Interviste
Spiacenti!

Non sono disponibili Interviste correlate.
Live Reports
Spiacenti!

Non sono disponibili Live Reports correlati.
Altre News di MetalWave
Notizia Precedente
Notizia Successiva