SKORBUTIKS: in arrivo il nuovo album ''Archaeonecrosis''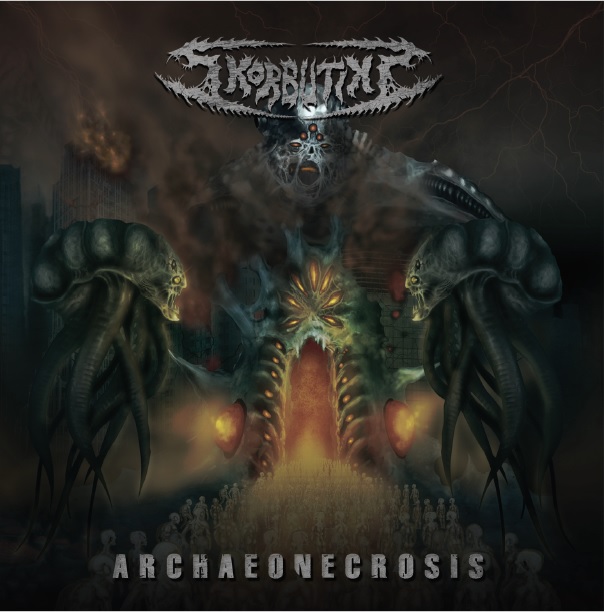 Continuano i lavori per la produzione del nuovo lavoro in studio degli SKORBUTIKS, death metal band veneta. "Archaeonecrosis", questo il titolo dell'album, sarà disponibile in formato CD ed attraverso le maggiori piattaforme digitali del settore a partire dal 27 Maggio 2019 via The Spew Records (divisione di Punishment 18 Records).
Sono 9 Le tracce della nuova release:
Death Breed Implants
Skyhole Devourment
The Pernicious March
The Ruins of Hatar
Towards the Great Enslavement
The Levelling
Dwellers of Void
Tombbath MMXVIII
Swarming Columns
Copertina e artwork sono ad opera dello stesso Thyphon, cantante della band.
A questo indirizzo è possibile ascoltare in anteprima la nuova "The Pernicious March":
https://www.youtube.com/watch?v=OftI96v6rQQ
Per info riguardo la nuova release, ordinare i cd o il merchandise ufficiale, mp3, date dal vivo, news e tutto quanto riguarda gli SKORBUTIKS è possibile visitare gli spazi web ufficiali:
SKORBUTIKS Official Fb Page:
http://www.facebook.com/Skorbutiks
PUNISHMENT 18 RECORDS/THE SPEW RECORDS:
http://www.punishment18records.com
Inserita da:
Jerico
il 21.05.2019 - Letture:
140
Articoli Correlati
Interviste
Spiacenti!

Non sono disponibili Interviste correlate.
Live Reports
Spiacenti!

Non sono disponibili Live Reports correlati.
Concerti
Spiacenti!

Non sono disponibili concerti correlati.
Altre News di MetalWave
Notizia Precedente
Notizia Successiva